Professionally showcase your brand

Split quantity across multiple designs

Large range of material choices

Great value for money  

MOQ of 25 labels
Make your own food label stickers
You don't need to be a large corporation to reap the benefits of food stickers. We work with various businesses, including specialist artisan producers, farmers, and tea and coffee suppliers, to produce high-quality, custom food and beverage labels. Businesses of all sizes can see an influx of customers due to professional packaging and increased brand loyalty as food stickers provide detailed information about their products and ethical values.
Whether it's to check a food's nutritional value, best before date, or ingredients list, food label stickers are a staple in our weekly shops...even if we don't know it! Increase the trust between you and your customers with a custom food sticker and stand out on the shelves.
TABLE OF CONTENTS
Creating your food label stickers
With the help of the latest digital printing technology, it's never been easier to create quality food label stickers for a very competitive price. Our food and beverage labels are printed in house in the UK, meaning we're able to offer food labelling stickers of an unrivalled standard from a minimum order quantity of just 25 stickers.
We can print food labelling stickers with variable data incorporated within your designs. You can include unique barcodes, ingredients, serving suggestions or QR codes on stickers that link to recipe inspiration, encouraging your customers to buy your product. Simply pop over to our online chat and ask our helpful team for assistance with placing your order!
It's vital that you ensure all of the information required by law is included on your food and beverage labels.
Food sticker uses
Food stickers are the unsung hero of the food packaging industry. Whether you require stickers for jars, cartons, bottles or boxes, we'll have the size, shape and material for you.
Use food stickers to their full potential. Capitalise on the versatility of these stickers and incorporate new and innovative ideas to spark interest with potential customers. For example, include a QR code that links to a page on your website with a recipe that incorporates that particular product and a shopping list of all other ingredients they will need. Engaging with your customers is a crucial element of turning a one-off customer into a loyal returning customer. What better way to connect than through a delicious, hearty meal!
Besides incorporating new marketing techniques, it's also vital that you include the relevant ingredients, allergens and nutritional information on your labels. A wrap-around label is popular for food and beverage label stickers as it provides you with room for your branding and space for your legally required information.
We offer a multiple designs service, perfect for displaying different flavours across your food stickers product range. Differentiate your design between your flavours by using varying printed colours, so they stand out to your customer. You could include a red background colour and image of a chilli for your chilli flavour or a yellow colour background and image of a vanilla pod for your vanilla flavour. Keep your logo and font consistent across your food stickers for cohesive branding.
Food labels for small businesses
Don't be put off by the idea of ordering large label quantities; we have a minimum order quantity of 25 custom food safe stickers, perfect for small businesses.
We work with a range of small businesses to create their ideal food label stickers, one type being jam makers. Getting the perfect food stickers for jam jars can be a tricky task. However, with our custom shape and size capabilities, our customers will never need to compromise between a food sticker that fits its purpose and affordability.
You can also use our small minimum order quantity of 25 food stickers to try a material or design before committing to a larger order. Not sure if our brown kraft paper will give the look you require? No problem! Order 25 brown kraft food stickers today and we'll do our best to dispatch them within 48 hours from PDF proof approval.
Food sticker materials
The material you choose for your food label stickers will largely depend on how durable you need them to be! If durability isn't leading your decision, our paper labels are our most cost-effective and eco-friendly option and are available in a range of finishes. Why not try out our brown kraft paper, perfect for food stickers, for artisan producers and jar labels?
Waterproof food stickers are achievable by selecting one of our vinyl materials. Our vinyl materials are available in white, clear and metallic finishes, so there will be an option for you. Ideal for adding personality and professionalism to your products.
Usually, food stickers for freezers require a specialist adhesive and material, which we don't offer. If you need food stickers that will last in extreme conditions, we recommend you request some free samples to test before placing an order.
Adhesives and finishes for food label stickers
Our food label stickers are available with a removable, permanent and extra-permanent adhesive, depending on the material you choose. A removable adhesive is recommended if you need to remove your labels without leaving any sticky residue. However, this is a low-tack adhesive and not advised for more demanding uses.
Our permanent adhesive is our most popular adhesive choice, and we can see why! Suitable for the vast majority of uses, our permanent adhesive is excellent for food stickers that need to sit pretty on the shelves without peeling off.
Our extra-permanent adhesive is our high-tack option and is recommended for low energy surfaces such as plastics. Choose this adhesive if you need your labels to stay stuck. Please be aware that this adhesive can still be removed from certain hard surfaces.
Our metallic vinyl materials are often overlooked in the food and beverage industry. Take advantage of their premium silver or gold finish and use them to showcase an award your wine or beers have won, or to promote special offers!
Food labelling requirements
Food labelling stickers must display certain information by law. This is a very important area to research and ensure your food labelling requirements comply before printing and sticking to your products.
Your food labels stickers should include:
The name of the food

Best before or Use by date

A list of ingredients

Warnings and allergens

Net quantity information

The country or place of origin

Instructions for use or cooking

Storage conditions

It is your responsibility to make sure everything that is legally required on your label is included within the print-ready artwork supplied to us. If you are using our in house design service, you must supply us with the necessary information so that we can create the artwork as needed. A good place to start is with the Food Standards Agency Requirements.
Food labels FAQs
What are food labels?
Food labels or stickers are a way to inform the consumer of all the necessary information about the product and its uses. It's also an opportunity for you to make your product more appealing and add innovative marketing techniques to engage with your customers.
How many consumers read food labels?
Surveys have shown that around 70% of consumers consult the label for information. This figure may only include those that look just for certain information or from time to time.
What are the rules for food labels in the UK?
In the UK, food labels have to be clearly legible, permanently stuck on or integrated into the packaging, not designed to mislead and must be clear to see and easy to understand. You can find more information on the Government website.
What needs to be put on food labels?
Food labels in the UK must clearly show several pieces of information such as name, description, net amount, contact details, ingredients, best before or use-by date. Some products need additional information like country of origin and storage conditions.
What can be put on the nutritional information panel on food labels?
Certain data is mandatory, and some is voluntary on the nutritional information panel of most prepackaged food. This data includes amounts of fat, saturates, carbohydrates, sugars, protein, salt and energy values in calories. It's always advisable to research what is required for your products.
What are food stickers made of?
Generally, most food stickers are made of paper because it's cheap and versatile, and it has a less environmental impact. More robust materials are usually only used where the product will be stored in non-standard conditions.
How big do food labels need to be?
The regulations require the labels and information such as the expiration date, nutritional information and other mandatory information to be clear and easily read. Therefore, the size of the label should accommodate this while bearing in mind the size of the product itself.
When were food labels first required?
The labelling of food goes back to when there was first some sort of package to label. In the UK, legislation to standardise food labelling was introduced by 1943. In the years since, the regulations have been expanded to include nutritional information and ingredients listings, among others.
Why are food labels required?
In the past, food labels simply identified the contents of whatever packaging they were in, but as standards improved and accuracy became expected, the quantity of the information increased to the point that today they give as much information as you could need.
Where do you buy food stickers?
You can print food stickers and labels with a good laser printer and the appropriate paper. However, as your label is your product's and company's face to the world, it's worth getting the job done properly. At Handy Labels, we have a decade of experience you can rely on.
Food label examples
The term food and beverage can encompass a huge range of products that we see on the shelves of the supermarkets and shops of every country in the world. We design, print and supply labels for almost every conceivable food product, the number and variety of what is possible can only be limited by your imagination. If you're looking for a reputable food labels UK supplier then you're in the right place!
See the above image of sweet/confectionary packets that look amazing with a simple two colour bag, black and frosted, and an eye-catching sticker to wow the passing consumer.
Delivery
We aim to print, finish and dispatch all orders within 48 hours of PDF proof approval. Your next day delivery has already been included in your price, so there will be no additional delivery fees at checkout!
Your next day delivery includes delivery to any UK mainland address. We also give you a 1-hour delivery window via text or email, so you know when to get excited about your food sticker delivery!
Food label review
The image above is of an immune boosting organic smoothie pack which shows the high quality clarity that can be attained using our printing technology. The crisp lines on the photography on the fruit with the contrasting colours of the orange, strawberry and kiwi fruit can only be achieved with the latest machinery that is maintained to the highest standards.
Of course it's not all for the sweeter palate, we produce for the savoury end of the market too. Crisps, sauces, dry goods, jars and luxury foods to name but a few.
Quality guarantee
If you are not delighted with your food and beverage labels then neither are we, check out the Handy Promise.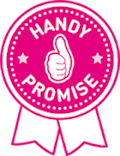 Why use Handy Labels?
Trust - we are a trusted sticker manufacturer and every order comes with our Handy Promise
No hidden extras - high quality stickers at an affordable price with VAT & delivery included
Large selections of shapes, sizes and materials
Huge material range to suit all budgets and uses
Minimum order quantity of just 25 labels
Buy stickers online quickly and easily with our simple-to-use online ordering system
Fast, helpful customer service
Rapid sticker and label turnaround times
Trackable order delivery service
Great quality and value for money
FREE label and sticker sample service
Handy Rewards loyalty benefits
UK based with all work produced in-house
Pay by Credit/Debit Cards, Paypal, Apple Pay, BACS
Unique environmentally friendly policy
Rated EXCELLENT 5 Stars by our customers