Customise to your kitchen style

MOQ - just 25 labels

Cost-effective solution

Rapid & free UK delivery

Excellent quality
Personalised pantry labels
Organising your home has never been this much fun! With personalised pantry labels, you can categorise your kitchen to work best for you and your family.
The influence of social media and the Covid-19 pandemic has caused an influx of people wanting to organise their homes! So don't envy the beautifully tidy kitchens you see on TikTok and Instagram. With our minimum order quantity of 25 labels and variable data capabilities, you can easily order custom pantry labels to organise your spice rack or pasta cupboard!
Use our free templates to create your perfect, personalised design. You don't need to feel restricted by our template sizes, though! We can produce kitchen labels in virtually any shape or size with our custom label printing and cutting capabilities. So go crazy; opt for a lemon shaped label for your fruit drawer or a loaf-shaped sticker for your bakery cupboard.
We can create a master file of your artwork which can be amended for different food categories or names. This way, you can keep your storage labels cohesive and easily organise everything in your kitchen. Contact a member of our helpful team for more information.
You can write on the majority of our kitchen labels with certain pens. This allows you to add the name of the food or the best before date, keeping you and your family safe from food poisoning.
Our pre-printed food storage labels make organising your home simple and fun! Order your pantry labels today and expect dispatch within 48 hours of PDF proof approval!
TABLE OF CONTENTS
Pantry label design ideas
Creating your kitchen label stickers should be an exciting, easy experience. Develop an Instagram-worthy design and make friends and family jealous!
Minimalist pantry labels are very on-trend. Achieve this look with a simple black design on one of our white vinyl materials. The bonus of this is that it's timeless and will look good regardless of how many times you re-decorate.
Alternatively, choose colours that compliment your painted walls and work-tops. If you have a duck egg blue theme in your kitchen, why not try a grey design on a white or off-white material? Our textured paper is the perfect off-white, with a traditional, rustic cottage feel.
What adhesives and finishes do we offer?
We offer an extensive range of materials, adhesives and finishes so you can achieve the kitchen labels of your dreams!
A popular option is our clear vinyl which gives you a no-label look. Opt for simple black text so it appears as if you've written on your receptacles directly. This is a smart and clean way to label your tubs, containers or kitchen shelves.
Our paper labels are great if you're looking for an eco-friendly, non-waterproof option! They are ideal for labelling items kept in dry environments, like pasta, rice or flour. Our waterproof vinyl is the solution if you need your pantry stickers to be more durable. Available in a range of finishes from white and clear to metallic and crystal frost, you'll be sure to find one suitable for your use.
Your food container labels may need to be kept in the fridge/freezer. If that's the case, please request a free sample pack to test our materials before placing an order.
You can also view the service and application temperatures for our different materials by clicking on their product page and scrolling down to the product specifications.
We offer a removable, permanent and extra-permanent adhesive across our material range. If you're unsure which one you require for your kitchen labels, try a free sample pack!
Don't let the word 'permanent' scare you! A permanent adhesive is a general-purpose adhesive that is by the far the most popular choice. We've detailed the best practices to remove your labels from different surfaces on our blog.
Pantry and kitchen label uses
From pasta and rice to flour and baking soda, organising your pantry with personalised kitchen labels makes the everyday tasks easier.
Kitchen storage labels can be used for various things, including labelling your herbs or your tea, coffee and sugar tubs. With our custom size capabilities and varied material range, you'll be sure to find the right fit for your kitchen.
We can produce a range of shapes, for example, rectangular stickers for larger containers and square labels for spice shakers. Keep your material and design consistent across your different shapes, so your pantry labels look neat and uniform.
Our variable data capabilities mean you can have different text on each sticker! As a result, we've made it super easy and cost-effective to arrange your entire kitchen! Contact us for more information on this service.
We've also created a detailed guide on applying vinyl labels over on our blog so you can ensure your labels look good on your containers. If you'd like a visual demonstration, you can find a how-to video on our Handy Labels YouTube channel.
All of our food container labels are printed here in the UK so that we can ensure quality and a quick turnaround time. Order now!
What label size do you need?
Do you need some help finding the correct size labels for your receptacles? Our handy label size guide will help you find the right dimensions for your pantry labels.
We have also outlined some popular sizes for specific bottles and containers. If none of these fit, don't worry! We can produce stickers in any custom shape or size to suit your need.
Pantry label FAQs
How do you organise and label a pantry?
To organise a pantry, it's best to first dispose of any out of date food. Once this is sorted, group your foods, for example, pasta, rice, flour, soup etc. You can then head over to Handy Labels and order custom kitchen stickers for each section!
What labels do I need for my pantry?
Sticky kitchen labels for spices and herbs, soups and sauces, pasta and rice and tea, coffee and sugar are great to categorise your pantry. Of course, you can always expand into more specific areas, but these types are an excellent place to start.
How do I make my own pantry labels?
Start by creating your design for your pantry labels. Once you have that ready, pop over to our website and choose your size and material. Place your order and sit back whilst we create your perfect kitchen stickers.
How do you label pantry shelves?
Depending on the material of your pantry shelves, you may require an extra-permanent adhesive so that your kitchen labels stay stuck. Consider labelling where specific food needs to be kept, helping everyone in your family keep things tidy!
How do you label food storage containers?
Start by choosing your material. If you're planning on keeping your kitchen labels in dry conditions, a paper material will be sufficient. If you require a waterproof sticker, opt for one of our vinyl materials for added durability. Upload your design for completely personalised organisational labels.
Delivery
We aim to print, finish and dispatch all orders within 48 hours of PDF proof approval. Your next day delivery to one UK mainland address has already been included in the price you see online, so there are no nasty surprises at checkout.
We also give you a 1-hour delivery window via text or email, so you know exactly when to expect your pantry labels!
Quality guarantee
If you are not delighted with your pantry labels, then neither are we; check out the Handy Promise.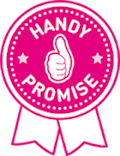 Why use Handy Labels?
Trust - we are a trusted sticker manufacturer and every order comes with our Handy Promise
No hidden extras - high quality stickers at an affordable price with VAT & delivery included
Large selections of shapes, sizes and materials
Huge material range to suit all budgets and uses
Minimum order quantity of just 25 labels
Buy stickers online quickly and easily with our simple-to-use online ordering system
Fast, helpful customer service
Rapid sticker and label turnaround times
Trackable order delivery service
Great quality and value for money
FREE label and sticker sample service
Handy Rewards loyalty benefits
UK based with all work produced in-house
Pay by Credit/Debit Cards, Paypal, Apple Pay, BACS
Unique environmentally friendly policy
Rated EXCELLENT 5 Stars by our customers