Asset Labels and Stickers
Very durable & dependable

Sequential numbering & variable data

Available with a high-tack adhesive

Speedy, free UK delivery

High-quality print
Asset labels, stickers or tags
Asset tags are a means of labelling equipment (or assets) by companies to keep track and identify what and where the assets are. The assets could vary in cost but they are common assets of high value such as computers, electric equipment and furniture. Our asset labels are high quality and durable, made from high-performance materials. Create custom asset labels at Handy Labels and receive fast delivery.
Most companies have valuable pieces of equipment at the business premises or out in the field. It's wise to have a system for monitoring them for security and asset management. Managing your tangible assets requires a means of differentiating between them so a record can be kept of key information such as purchase date, maintenance schedule and location. The asset stickers we produce are our ultra-strong laminated vinyl to protect it in most environments commonly found in a modern workplace.

Whether you need asset labels that are:
Blank window for a handwritten identification code
You'll find every asset tag you need right here with the minimum of expense, fuss and effort.
TABLE OF CONTENTS
Asset label materials and uses
Our custom asset labels are made in gloss or matt laminated vinyl with either a permanent or high-tack, extra permanent adhesive. This is the strongest, most durable material we offer, it will protect the asset sticker during the cleaning of the equipment and the label will remain in place in the most diverse of environments.
Our asset labels are printed in high resolution and can be alphanumeric, pictorial, QR codes or barcodes featuring logos and can be made up of multiple colours.
Sequentially numbered asset stickers
If you need your asset stickers numbered consecutively please choose this option at the artwork stage, where you can enter your unique alphanumeric 'From - To' range.
Our artwork team will then proceed to create your sequentially numbered label artwork and email you a PDF proof for approval before proceeding to print.
Asset labels with unique QR codes
In addition to numbering, we can add variable QR codes to your asset tags. Please choose the variable data option when prompted at the artwork stage. You can also start by using our preset variable data spreadsheet for ease. Download our Excel database file, add your variable data text and send it to us.
Traditional asset tags are small and rectangular but you can choose the exact shape and size you would like and even upload your own design. Asset tagging can be functional, featuring just the essential information or it can be more technical depending on your company or institution.
Your custom asset labels can be enhanced by adding your logo, custom shapes, multiple colours. We can produce any shape with all the colours in any combination or pattern.
Asset sticker adhesives
Our asset stickers are available with either a general-purpose permanent adhesive or our hi-tack, extra-strength adhesive so that they will stick to almost anything; laptops, printers, computers/monitors, audio/visual equipment and most other valuable items. Great for schools, colleges, councils, universities and companies to keep track of anything that needs it.
Receive your asset labels within 48 hours of receipt of proofed artwork.
Asset labels FAQs
What are asset labels?
Asset labels, stickers or tags are used to achieve several things. The code number or barcode can be stored to keep and inventory, schedule maintenance or track the location by scanning or logging items in/out. They are a security measure to identify ownership.
What are asset labels made of?
Asset labels need to be durable and to stick around for the lifespan of the asset in question so normally they are made of durable vinyl or aluminium. Our laminated vinyl labels will stay pristine in all weathers for 7 years so they'll stay stuck beyond the lifespan of most electrical goods.
What do you use asset labels for?
Tracking assets is an important operation for many organisations for several reasons. The accounts department needs to know what equipment is owned, the maintenance department needs to schedule service and consumable replacement and if anything goes missing it is readily identifiable.
What can be put on asset labels?
Since we produce custom asset labels, you can put whatever you want or need on your asset tags and they can be any shape you like. Traditional asset tags are small and rectangular but with our asset tags, you can go so much further if you want to.
Can asset labels be made extra strong?
Our laminated vinyl asset labels with high tack/extra permanent adhesive will stay strong in even the harshest of conditions and for security purposes be very hard to remove.
What is an asset number?
All an organisation's assets should be listed in a database and each one of those assets should have an associated code or number to identify them for many reasons such as tracking, accounting, maintenance and security.
What types of assets are there?
There are current and non-current assets, current ones are things like cash, accounts and inventory and usually have a rapid turnover. Non-current assets are ones that generally stay for a longer period of time like computers and printers.
Delivery
We aim to print, finish and dispatch all asset label orders within 48 hours of PDF proof approval. Your next day delivery has already been included in your price, so there will be no surprises at checkout.
This covers delivery to any UK mainland address, we also give you a 1-hour delivery window via text or email, so you don't have to wait all day for your asset label order to arrive, we know how frustrating this can be.
We use a trackable 2-day service for Northern Ireland, Scottish Highlands & Islands which will be added to your total at checkout.
Quality guarantee
If you are not delighted with your asset labels then neither are we. To ensure complete satisfaction with your order, we commit ourselves to abide by our Handy Promise.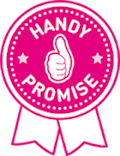 For every order received...
We promise to print your artwork exactly as the approved PDF proof
We promise to print your artwork on the exact material at the exact size ordered
We promise to print and colour match your approved print-ready PDF proof
We promise to print the correct quantity ordered
We promise to pack your order professionally
Why use Handy Labels?
Trust - we are a trusted sticker manufacturer and every order comes with our Handy Promise
No hidden extras - high quality stickers at an affordable price with VAT & delivery included
Large selections of shapes, sizes and materials
Huge material range to suit all budgets and uses
Minimum order quantity of just 25 labels
Buy stickers online quickly and easily with our simple-to-use online ordering system
Fast, helpful customer service
Rapid sticker and label turnaround times
Trackable order delivery service
Great quality and value for money
FREE label and sticker sample service
Handy Rewards loyalty benefits
UK based with all work produced in-house
Pay by Credit/Debit Cards, Paypal, Apple Pay, BACS
Unique environmentally friendly policy
Rated EXCELLENT 5 Stars by our customers