Customised to your design

Huge material range

Personalise with variable data

PDF proof included

Free UK delivery. Buy now!
Personalised happy birthday stickers
Celebrate in style with personalised birthday stickers! We know how important milestones are, whether it's your 50th or your princess's first birthday party. Happy birthday stickers add something special to the day.
Birthday labels are a cost-effective and eco-friendly way to decorate invitations, personalise party favours and commemorate the day in your scrapbook or photo album. They're also an excellent way to organise your birthday planner with guest names, addresses or colour-coded markers for food allergens and intolerances. Choose one of our paper materials for an environmentally friendly option or our waterproof vinyl if you'd like your labels to be extra tough!



We understand how stressful planning a party can be, especially when the whole school class has been invited! With this in mind, we have made the order process super simple. With our extensive range of materials and custom shape and size capabilities, we can produce personalised birthday stickers to meet your needs. We also send you a PDF proof to approve to confirm you are happy with your design before printing for added peace of mind.
Choose Handy Labels and receive premium print quality, hands-on customer service and fast delivery, all at a competitive price!
TABLE OF CONTENTS
How could you use birthday stickers?
Whether you want to personalise birthday cards and gift-wrapping or create party bags and thank you cards that wow your guests, birthday labels are the solution.
Customising birthday cards with age stickers, special greetings, or family members' names is a great way to make the recipient feel extra-special. For example, you could create an eye-catching jungle-themed label for your grandson's card, showing them how much of a roar-some grandparent you are! Or, keep it simple with a generic 'happy birthday' sticker, so that card making is that little bit easier.
Parties are a great way to get together with friends and family and celebrate a special occasion. Birthday stickers simplify the planning, organising and execution of these events. You can use them to personalise party bags, invitations and party decor. You could think outside of the box and offer sweet cones instead of party bags. Embellish the cones with a custom birthday sticker and be the talk of the town! End the event with a unique 'thank you for coming to my birthday party' label for guests to stick to their clothes or party favours.
Handy labels have made ordering cute, funny or age-related birthday labels quick and easy. Order now and receive them within 48 hours of PDF proof approval.
Adhesives and finishes
Our waterproof vinyl materials are popular for happy birthday stickers due to their durable nature. We offer vinyl labels in various finishes, including gold and transparent. Achieve the no-label look on invitations and birthday cards with our clear glossy vinyl, or make your guests feel like VIPs with an exclusive gold vinyl sticker.
We also pride ourselves in our vast range of paper labels, perfect for eco-conscious customers.
If you need your labels to peel from your surfaces without leaving any residue, our removable adhesive might be the choice for you. When ordering removable labels, we would always recommend requesting a free sample pack before placing an order to ensure this low-tack option is right for you.
Our permanent adhesive labels can still be removed from certain surfaces using some super simple tricks. We've outlined the best practices to remove permanent labels on our blog for more information.
Our stickers are printed in-house in the UK so that we can guarantee quality and fast delivery.
Any custom shape and size
We've created a handy guide to help you find the correct size labels for any container or irregular-shaped object. So, whether you're looking to customise party hats or water bottles, we can help.
We can cut to virtually any custom shape or size you require. We can produce large personalised birthday stickers, perfect for signage, round stickers for invites or custom-shaped balloon stickers for party favours. The choice is yours!
Awesome stickers delivered in time for your birthday party!
We aim to print, finish and dispatch all orders within 48 hours of PDF proof approval. Your next-day delivery to a UK mainland address has already been included in your price, so there will be no surprises at checkout.
In addition, we also give you a 1-hour delivery window via text or email, so you don't have to wait all day for your order to arrive; we know how frustrating this can be.
Quality Guarantee
If you are not delighted with your stickers then neither are we, check out the Handy Promise.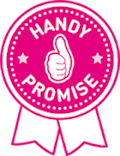 Birthday sticker FAQs
What are birthday stickers?
These labels are commonly used to personalise birthday cards, gift wrapping and party favours and help the party planner stay organised! With our vast range of materials, we'll be sure to offer one that suits your requirements.
How do you make a birthday sticker?
We've made creating your stickers and completing the order process incredibly easy. All you need to do is choose your material and size, upload your artwork and place your order!
What should I write on a birthday sticker?
Birthday wishes, guests' names or thank you messages are popular ideas! Think of what you'd like to say to the recipient and pop it on a sticker for a fun, unique touch.
Can you create personalised age stickers?
Yes, we can! Whether you need 2nd or 40th birthday stickers, we can print them for you. You can choose to upload your own artwork when placing your order or pay a small charge for our artwork team to create your artwork for you.
What are stickers made of?
Usually, you will find they are made from paper or vinyl materials. Paper labels are great if you need an eco-friendly option that will be disposed of after the party. However, if you need them to be more durable, you would require a waterproof vinyl material.
Can you print different names or addresses on each label?
Yes, with our variable data capabilities, we can print a different guest's name or address on each sticker, perfect for labelling invitations or party favours. If you're having a joint birthday party and need to split your total quantity across two different names, choose our multiple designs service. This will allow you to print both designs in the same print run!
Why use Handy Labels?
Trust - we are a trusted sticker manufacturer and every order comes with our Handy Promise
No hidden extras - high quality stickers at an affordable price with VAT & delivery included
Large selections of shapes, sizes and materials
Huge material range to suit all budgets and uses
Minimum order quantity of just 25 labels
Buy stickers online quickly and easily with our simple-to-use online ordering system
Fast, helpful customer service
Rapid sticker and label turnaround times
Trackable order delivery service
Great quality and value for money
FREE label and sticker sample service
Handy Rewards loyalty benefits
UK based with all work produced in-house
Pay by Credit/Debit Cards, Paypal, Apple Pay, BACS
Unique environmentally friendly policy
Rated EXCELLENT 5 Stars by our customers