Cut to custom shapes & sizes

Spread quantity across multiple designs

Brilliant value for money

Rapid & Free UK delivery

Broad material range
Personalised gin labels
The popularity of gin has soared over the last five years. We print gin labels for many artisan gin producers throughout the UK and Europe. We understand successful branding and know the importance of making your gin bottles stand out within this competitive marketplace.
With our expertise, printing custom gin labels doesn't have to be complicated. With our cost-effective prices, wide range of materials and fast delivery, you'll have the best-looking gin bottles on the shelf!
Like any product packaging, the making of a good gin label consists of effective branding and concise product information. Consider how you can elevate your branding when designing your labels for bottle of gin? Achieve an earthy, homemade look with a simple design on our brown kraft material. Or, for a more traditional appearance, our luxurious textured sticker paper is a very popular choice with artisan gin makers.
Alternatively, a printed full-colour design on our white glossy vinyl will offer punchy colours and crisp detail to showcase the botanical notes in your spirit. For a muted, modern twist our white matte vinyl hits the mark every time.
For a premium product, you need a premium label. So take advantage of our custom printing and cutting capabilities and achieve a fully personalised gin bottle label. We can produce custom shapes and sizes in all of our material range, so don't feel restricted, rise above your competitors.
Download one of our various templates to help you create the perfect gin label design. Once your design is complete, upload it with your order and our artwork team will email you a PDF proof for approval before printing.
Buy your custom printed gin labels online today with our easy, quick ordering process.
Sloe bottle labels printed to perfection
If the plethora of gin flavours weren't enough for us all, we now have sloe gin added to the mix too! It's a red liquor made by infusing sloes, a type of berry, with high proof gin and some sugar. Originally consumed warm in the winter, sloe gin has branched out to the summer months with the creation of cocktails like a Sloe Gin Fizz.
Why not take inspiration from the innovative ideas in gins history and provide some cocktail recipes on your gin labels? You could also share some knowledge on the history of your gin, including how you make it and the special ingredients used, giving your tipple a personal touch.
So if you're searching for quality printed sloe gin labels, look no further. Shop now!
What needs to be on a gin label?
With almost every product comes labelling requirements that you need to meet. Especially when selling a more dangerous substance such as alcohol, you must be providing all the facts so customers can determine whether to purchase and consume.
When creating a gin label, remember to include all required product information. Some of the necessary details are:
The bottler's name and address
Period of maturation
Country of origin
Alcohol strength as shown by volume
Nominal volume - this is in litres, centilitres or millilitres
Please drink responsibly notice.
If you'd like further information on this, you can visit Drinkaware
Recycling details
Allergy declarations
We recommend thorough research to ensure you meet labelling requirements and provide your customers with all necessary information. It's our customers' responsibility to get this right. For further help, please head to the Food Standards Agency
Juniper to gin
We see the word gin in our supermarkets, pantries and bar carts, but where does it come from? It's shortened from genever, an older English word. Also in connection with the Dutch word jenever and the French phrase genièvre, they all stem from the Latin term juniperus, which means juniper.
The use of gin has changed throughout the centuries, too! Previously, in the 1500s, the Dutch used a spirit named "genever" as a medicinal remedy. Fast-forward to the Thirty Years' War, the English soldiers first experienced the calming properties of gin when they drank it to relax before battle. They enjoyed it so much that they took it home!
Gin labels adhesives and finishes
If you're looking for professionally printed gin labels available in an extensive range of materials and finishes, you're in the right place! One of our favourite uses of our textured paper is for spirit bottles. The traditional ribbed feel exudes luxury whilst still looking homemade and unique. Pair this with a complementing design, and you have a match made in gin label heaven.
If you're hunting for a waterproof label, our vinyl range is perfect for you. Available in a collection of finishes, including white, clear, crystal frost and metallic, we're sure to offer a material that compliments your packaging. Our laminated vinyl is our most durable material option and provides more protection for your printed design against alcohol spillages.
We offer removable, permanent and extra-permanent adhesive options across our material range. A permanent adhesive is our most popular choice for the majority of uses and is what we recommend for gin glass bottle labels. Don't worry about it being difficult to remove. With our handy guide, you or your customer can remove these labels with little fuss!
Furthermore, we print every order in the UK, which allows us to keep a close eye on quality and offer a rapid delivery service.
Ideas when to use labels for gin bottles
Whether you're a small business producing a range of botanical gins or you want to customise tipples as gifts for your loved ones, a personalised gin label is a cost-effective solution.
We offer a multiple designs service that allows you to split your total quantity across your different artworks. This is an easy, low-cost way of printing labels for your range of different flavours without compromising on quality.
With this in mind, why not go the extra mile and create a new design for your different gins? You could use bright, vibrant colours for your floral flavours and deep, rich colours for your herbal ones. Remember to keep your primary branding consistent throughout so shoppers can find you on the shelves.
Use our 25 minimum order quantity to experiment with design ideas with little expenditure.
We can even create you a master design file that can be edited with your new flavours and infusions when required. Your job as a gin seller is to get buyers to purchase your products repeatedly. There's no better way to create brand loyalty than keeping your core design consistent on your bottles.
Contact a member of our dedicated team who will be happy to provide some further advice.
Gin labels aren't just used by distillers; consider gifting bottles of gin as wedding favours or hen/stag party presents, all personalised with a label, of course!

Gin label sizes
The dimensions of your required gin label will depend on:
The size of your bottle
The amount of space you would like around your label
The shape of your label
Check out our label size guide to find out which works for you.
We can offer virtually any shape or size you require with our custom print and cutting capabilities. If you can't find the size you're looking for, head over to our online chat and a customer service representative will help.
Gin labels FAQs
What are gin labels?
Gin labels are a cost-effective packaging solution to display branding and product details on gin bottles.
Why are gin labels important?
Gin labels contain crucial product details for customers, such as ingredients, alcohol percentage and warnings. Make sure to research what is required on your labels to ensure you comply.
How do you make gin labels?
Consider a unique design, consistent branding and premium materials when making gin labels. Whether you prefer paper material or waterproof vinyl, choosing the right material to complement your design will elevate your finished sticker.
What size label do I need for my gin bottles?
The size of your labels depends on your gin bottle size, your label shape and the amount of space you require around your label. Check out our label size guide for help selecting your correct measurements.
Are gin labels recyclable?
Yes, our gin labels are recyclable. For a cost-effective, eco-conscious material, opt for any of our paper labels.
Are gin labels cost-effective for my business?
Gin labels are one of the most cost-effective ways of adding your branding and essential information onto your gin or sloe gin bottles. Consider using our multiple designs service for an economical way of printing gin stickers for all of your varieties.
Delivery
We aim to print, finish and dispatch all orders within 48 hours of PDF proof approval. Your next day delivery to one UK mainland address has already been included in your online price, so there are no surprises at checkout.
We also give you a 1-hour delivery window via text or email, so you know exactly when your order will arrive!
Quality guarantee
If you are not delighted with your gin labels then neither are we, check out the Handy Promise.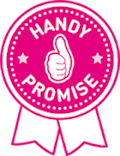 Why use Handy Labels?
Trust - we are a trusted sticker manufacturer and every order comes with our Handy Promise
No hidden extras - high quality stickers at an affordable price with VAT & delivery included
Large selections of shapes, sizes and materials
Huge material range to suit all budgets and uses
Minimum order quantity of just 25 labels
Buy stickers online quickly and easily with our simple-to-use online ordering system
Fast, helpful customer service
Rapid sticker and label turnaround times
Trackable order delivery service
Great quality and value for money
FREE label and sticker sample service
Handy Rewards loyalty benefits
UK based with all work produced in-house
Pay by Credit/Debit Cards, Paypal, Apple Pay, BACS
Unique environmentally friendly policy
Rated EXCELLENT 5 Stars by our customers