Professionally promote your brand 

Split multiple designs across your order

Available in any shape & size

Rapid, Free UK delivery

Buy online now
Personalised coffee labels
The humble cup of coffee is one of the most beloved beverages across the world. A coffee bean starts as a seed before making its fascinating journey through planting, harvesting, processing, milling, tasting, roasting, grinding then packaging, this is where we enter into the fold.
Personalised, printed coffee labels and stickers to be applied to your coffee bags, cups, and tins are our specialities. We can customise the shape of your label in any of our waterproof materials to ensure it gets noticed once on display. Alternatively, our cost-effective uncoated paper template range will look the part for a natural, hand-made identity.
Things to remember to include on your coffee label are:
Brand Logo - Make it stand out, loud and proud.
Bean Flavour/Blend - Adapt your label artwork to compliment the blend, for example, use dark colours for a dark roast coffee label.
Origin of Bean - Your customers are interested to know the backstory of the bean in the bag.
Coffee Certification Logo - Display the logo to inform your product was produced by people working together in harmony. For example; Rainforest Alliance
Your Brand Values & Story - Tell your story. Your love and passion for producing coffee.
All of our materials will allow for hand-written roast dates on the printed coffee label if required. We can send you a free sample pack, allowing you to try our most popular materials on your packaging before you place your order. You can see our high-quality printing first hand, and you won't be disappointed.
Do you need more than one design printing? If so, use our multiple design service, which is super easy and saves you money! For example; you may have a total quantity of 1000 labels you require split equally or in varying amounts between your Arabica, Robusta, Liberica and Excelsa coffee types. As long as the size, shape and material are the same, you're good to go.
Together we will make your printed coffee labels as fresh as your newest roast!
Coffee bag label sizes - Most popular
250gsm Bag FRONT Label - 94mm x 140mm - Template Size
250gsm Bag FRONT Label - A6 Portrait - 105mm x 148mm - A-Sizes
250gsm Bag BACK Label - 96mm x 92mm - Template Size
250gsm Bag BACK Label - 90mm x 90mm - Template Size
Please choose the custom option if you require an exact size or shape.
Many coffee bag and tin sizes differ, so please ensure your product will accommodate these label sizes.
Coffee product labelling
There are several legends about who first had the idea of roasting the beans then drinking the resulting beverage from the coffee shrub. One account puts the story in 9th century Ethiopia where a goatherd observed his animals after eating the raw berries. While another attributes it to a cave-dwelling exile in Yemen.
Whoever had the idea first, a cup or mug of coffee has become one of the most popular drinks in the world so it's not surprising that there's so much innovation in the sector with new coffee products coming out on a daily basis. From coffee bags to coffee machine shots and everything in between, companies are competing for their market share.
Coffee packaging is an important part of the overall look and feel of the product, so many companies try various techniques to stay ahead of their rivals. Ethical coffee production with sustainable packaging is a popular USP (Unique Selling Proposition) that is used possibly in conjunction with a vintage feel to the sticker.

Delivery
We aim to print, finish and dispatch all orders within 48 hours of PDF proof approval. Your next day delivery has already been included in your price, so there will be no surprises at checkout.
This covers delivery to any UK mainland address, we also give you a 1-hour delivery window via text or email, so you don't have to wait all day for your order to arrive, we know how frustrating this can be.
Quality guarantee
If you are not delighted with your coffee labels then neither are we, check out the Handy Promise.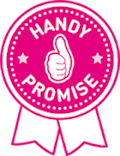 Why use Handy Labels?
Trust - we are a trusted sticker manufacturer and every order comes with our Handy Promise
No hidden extras - high quality stickers at an affordable price with VAT & delivery included
Large selections of shapes, sizes and materials
Huge material range to suit all budgets and uses
Minimum order quantity of just 25 labels
Buy stickers online quickly and easily with our simple-to-use online ordering system
Fast, helpful customer service
Rapid sticker and label turnaround times
Trackable order delivery service
Great quality and value for money
FREE label and sticker sample service
Handy Rewards loyalty benefits
UK based with all work produced in-house
Pay by Credit/Debit Cards, Paypal, Apple Pay, BACS
Unique environmentally friendly policy
Rated EXCELLENT 5 Stars by our customers