Advertise your message with impact

Clings to any flat glass surface

White or clear material options

Peel & reuse. Non-adhesive

Free UK delivery included
Stickers for Glass Windows
Window stickers are a great way to get your message across to your customers, on shop windows, car windows or any customer-facing premises. Our well-designed glass and window stickers will catch the eye of your customers and expertly promote your brand, where you need it.
Window stickers are important for a huge number of purposes and occasions. Whether you're using it to post your opening hours, advertise special promotions or just brand your workspace, they are the perfect way to get your message out there.
Made from white or clear double-sided calendered PVC, our window stickers will stick to clean glass, making them ideal for indoor and outdoor use. Our window stickers are reusable because of their static cling properties. This means you can apply them, peel them off and reapply them without the stickers losing their 'cling', and without leaving any mess or sticky residue behind.
We produce static cling stickers in any size and shape on our window sticker vinyl material. We offer a simple and straightforward order process, fast delivery and a high-quality product.
Start building your product above or, if you're still unsure, speak to our team or request a free sample of your window sticker.
Window sticker adhesives and finishes
Our custom window stickers are available in a white gloss or clear gloss finish. Our thick self-cling vinyl is adhesive free, using static cling for 'peel and re-use'. They can be applied to the inside or outside of any smooth glass surface, are easily removable and can be carefully stored away for future use.
Glass stickers are digitally printed in high-quality CMYK or white with eco-solvent inks. Both offer a level of scratch and UV resistance.
Uses for window stickers
Are you launching a new product or service? Is there an upcoming event that you need to promote? Our highly visible window stickers will be perfect for the job. Window stickers are ideal for all smooth glass surfaces, car windscreens and retail window displays.
Window stickers are a cost effective way of advertising your brand due to their ability to be changed and removed at ease. Glass and window stickers can be used for:
Decorative purposes - improve the appearance of the front of a shop or home windows.
To promote health & safety information. See health & safety labels.
To promote brand messages, services or products on shop windows or cars.
Build brand awareness. See business and logo stickers.
Cafe window stickers
Window stickers are the ideal way to brand the front of your cafe, advertise exclusive deals and promote your specials. Attracting customers streetside is crucial for your coffee shop as most people will make a spontaneous decision to visit. A beautiful cafe window sticker will help you stand out against your high street competitors.
Available in a white and clear gloss finish, they are a cost-effective way to elevate your coffee shop's marketing. If you only need one large label, don't worry! Contact our dedicated team for a custom quote.
Don't stop there; we can produce restaurant and bar window stickers too!
Window stickers FAQs
Are window stickers reusable?
Yes, window stickers are reusable. Just carefully peel them off the surface they are on, wipe them down with a damp watered cloth and carefully reapply them to an appropriate surface.
Do you apply window stickers on the inside or outside of windows?
Since the material used in window sticker manufacture is the same on both sides, you can put them on either side but for security and protection from the elements, it's standard practise to put them on the inside. Be sure to reflect this (excuse the pun) in the design.
How do you apply window stickers?
To apply static-cling window stickers, make sure both surfaces are clean and dust free. A fine mist of water on the window will help smooth the sticker in place, working from one edge smoothing out any bubbles as you go with a squeegee or smooth straight edged object, e.g. a bank card.
What are window stickers made of?
Our window stickers are made of clear or white calendered PVC (PolyVinyl Chloride) and our printers transfer your design straight on to the surface, in high-quality detail.
How do I make window stickers stick again?
Since window stickers affix to any smooth glass surface using a different mechanism to ones with traditional adhesives, they can be reused over and over, just clean them and start again.
What makes window stickers stick?
The static in a lighter object causes it to be attracted to the larger one i.e. sticker to window and surface tension allows the flexible plastic to remain fixed to the glass.
Where can you put car window stickers?
If you are planning to put window stickers on the front windscreen there are regulations on the position and by how much it can stray into the drivers field of vision. Rules on positioning on the other windows are less strict but they cannot obscure the drivers vision.
Delivery
We aim to print, finish and dispatch all orders within 48 hours of PDF proof approval. Your next day delivery has already been included in your price, so there will be no surprises at checkout.
This covers delivery to any UK mainland address, we also give you a 1 hour delivery window via text or email, so you don't have to wait in all day for your order to arrive, we know how frustrating this can be.
Quality guarantee
If you are not delighted with your window stickers then neither are we, check out the Handy Promise.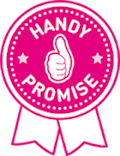 Product specification
Made from white or clear calendered poly-vinyl chloride (PVC). The material's surface clings to smooth metals, cleaned glass and some other flat surfaces like fridges and freezers. You can use either the inside or the outside due to the double-sided nature of the product.
Since the static cling properties that are used to adhere this product, there is the added bonus of its ability to be peeled and re-used. This process can be repeated over and over without the effect diminishing. For a professional finish, apply a spray mist of water over the clean surface you wish the sticker to be, then squeegee down to eliminate any air bubbles. Please ask for a sample of our static cling window material to try on your product before ordering.
Surface Finish: Gloss
Material Thickness: 170 micron
Available Adhesive: Static Cling
Application Temperature: +10°C to +50°C
Service Temperature: -20°C to +50°C
Durability and Safety
Fire Rating: Flame Retardant
External Weathering: 2 years
Why use Handy Labels?
Trust - we are a trusted sticker manufacturer and every order comes with our Handy Promise
No hidden extras - high quality stickers at an affordable price with VAT & delivery included
Large selections of shapes, sizes and materials
Huge material range to suit all budgets and uses
Minimum order quantity of just 25 labels
Buy stickers online quickly and easily with our simple-to-use online ordering system
Fast, helpful customer service
Rapid sticker and label turnaround times
Trackable order delivery service
Great quality and value for money
FREE label and sticker sample service
Handy Rewards loyalty benefits
UK based with all work produced in-house
Pay by Credit/Debit Cards, Paypal, Apple Pay, BACS
Unique environmentally friendly policy
Rated EXCELLENT 5 Stars by our customers