Personalise with variable data

Custom made to your needs

Big choice of sticker materials

MOQ of just 25 stickers

Free UK delivery, buy now
Personalised wedding stickers
Personalised wedding stickers are a beautiful touch both before, during and after your wedding. Whether you're personalising with your guest's names, your names or the date, add a special touch by creating personalised stickers for your invitations, wedding favour stickers, or even personalised wine bottle stickers.
Our personalised wedding stickers are fully customisable so you can put your names, initials, pictures or designs on your stickers. For this, we recommend using our sticker maker. Check out our helpful guides for more information or start building your stickers above.



We can print wedding stickers in any shape or size and choose from over 23 materials. Depending on your finish, our high-quality stickers can be used for indoor or outdoor use with durable, waterproof material options available.
Do you only want to personalise items for the bridal party or are you having an intimate ceremony? Order from as little as 25 labels.
We know your wedding day is not only important but it can be expensive too. That's why we keep our costs low and try to take some of the stress away. You can create your wedding stickers quickly and affordably with Handy Labels to add that special touch to all your little extras on your big day.
Wedding sticker uses
Get as creative as you like with personalised wedding stickers. Here are some of our favourite uses:
Wedding invitation seals
Wedding invite address labels
Wedding favour labels
Bridal shower invites
Table placeholders and decor
Thank you stickers
Goodie bag stickers
Personalised napkin holders
Wine labels and bottle seals
Candle Labels
Save the date calendar stickers
Adhesives and finishes for wedding stickers
We provide an extensive range of materials and finishes for your wedding labels and stickers. With the ability to be fully customised, choose from over 23 materials and a range of adhesives and finishes depending on the material. Simple wedding stickers can be printed on paper to suit most jobs or for more durable jobs such as wine bottles or where stickers need to be waterproof, opt for a vinyl material.
Plain matt white vinyl is a popular choice for weddings as well as silver metallic and gold metallic. We have three different material finishes for silver and gold materials which are smooth satin, polished and brushed. Crystal Frost, which is semi-opaque with a muted glittery silver characteristic, is popular for use at weddings as they look spectacular adorning the top table and accessorising the settings for all the guests.
Check out our FAQs below for more information.
Wedding sticker FAQs
What should I write on wedding stickers?
There are lots of messages that you could put on your wedding stickers to make your special day extra special. Some ideas include; 'Save the date', 'Thanks for coming from Mr and Mrs Smith' and 'RSVP yes or no'.
Where to buy custom wedding stickers?
You can buy off the shelf wedding stickers and stationery from many retail outlets and online stores but for bespoke custom wedding stickers you need a professional printing service, look no further than Handy Labels.
What are wedding stickers made from?
Most wedding stickers are made from paper, it is inexpensive and will suit most needs. Paper will last well over a single day so it will normally be your go to choice. For more specialist uses like when you need transparency, on a wine glass for example, vinyl would be the best choice.
What are some creative wedding sticker ideas?
Some creative wedding sticker ideas we've been loving are toast glass messages, hotel room door hangers, water bottle labels and removable hymn book markers.
What sort of sticker should I use for wedding toast glasses?
Paper stickers would work but if you want transparency or other effects, vinyl is the best option. Our crystal frost is a perfect combination of glittery shimmer and opaque, just to top the toast off perfectly.
What are wedding stickers?
Wedding stickers are a relatively new idea that has become more popular in recent years due to the comparatively cheap way you can get personalised stickers. Give your guest a personal message with a custom wedding sticker.
What are wedding favours?
Wedding favours are small tokens that the married couple gift to their guests or people for attending their wedding. Traditionally, this was in the form of almonds, now they take the form of all different kinds of gifts. You can now make them even more special by adding a personalised wedding favour sticker for each guest.
Delivery
We aim to print, finish and dispatch all orders within 48 hours of PDF proof approval. Your next day delivery has already been included in your price, so there will be no surprises at checkout.
This covers delivery to any UK mainland address, we also give you a 1 hour delivery window via text or email, so you don't have to wait in all day for your order to arrive, we know how frustrating this can be.
Quality Guarantee
If you are not delighted with your wedding stickers then neither are we, check out the Handy Promise.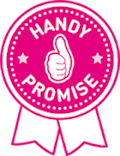 Wedding photographers, planners and caterers courtesy labels.
Providing a service for the happy couple? Why not wish them well with a few tastefully placed stickers? Much better than cards that can fall off, look a bit tacky nowadays and are largely ignored, a sticker holds its own and catches the eye, just don't overdo it.
Existing wedding clients are the perfect way to showcase your talents, do a fantastic job and anyone on the guest list will keep you in the back of their mind for their next event.
Proms, birthdays, anniversaries etc often use photographers, caterers, bands, florists and all the other services. Make sure there's something to handout with your business's name and contact details on for them to take home for future reference.
Why use Handy Labels?
Trust - we are a trusted sticker manufacturer and every order comes with our Handy Promise
No hidden extras - high quality stickers at an affordable price with VAT & delivery included
Large selections of shapes, sizes and materials
Huge material range to suit all budgets and uses
Minimum order quantity of just 25 labels
Buy stickers online quickly and easily with our simple-to-use online ordering system
Fast, helpful customer service
Rapid sticker and label turnaround times
Trackable order delivery service
Great quality and value for money
FREE label and sticker sample service
Handy Rewards loyalty benefits
UK based with all work produced in-house
Pay by Credit/Debit Cards, Paypal, Apple Pay, BACS
Unique environmentally friendly policy
Rated EXCELLENT 5 Stars by our customers