Custom shapes & sizes available

Personalise your champagne bottles
Large range of materials


Easy online ordering

MOQ of 25 labels
Personalised champagne labels
Champagne bottle labels are the perfect way to add your special touch to a wedding or birthday gift. With our wide range of materials and custom design capabilities, you'll be sure to find a champagne label that lives up to the occasion.
We can produce personalised champagne labels with premium print quality in virtually any shape or size. Whether you need champagne labels for gifts or your own range of bubbly, our experienced and friendly customer service team is always happy to help.
We believe a gift should be completely personal, which is why we let our customers upload their own designs for their labels. If designing isn't your strong suit, choose our design service when placing your order. Our artwork team will create your artwork for you to your exact requirements for a small charge. Achieve premium personalised champagne gifts for little added expenditure.
Downloadable label templates are available for certain dimensions if you would like a starting point. However, please don't feel restricted by our template sizes. We can print and cut to virtually any shape or size you require, so think outside the box! For example, choose a heart-shaped label to elevate your wedding, anniversary or Valentines' day gifts. Or, opt for a pacifier-shaped label for a baby shower!
If you want to design them yourself, we also offer editable design templates, via our online tool!
Our personalised champagne bottle labels are produced here in the UK, which means we can provide great value, superb quality and speedy delivery times.
Buy your champagne stickers with us today to avoid disappointment!
TABLE OF CONTENTS
Uses for personalised champagne labels
From weddings, anniversaries and engagements to birthdays, retirements and graduations, personalised champagne bottles make amazing gifts. With our wide range of materials, there's an option for everyone.
Do you only have a small guestlist for your bridal shower or birthday party? Don't worry. Our minimum order quantity of 25 labels means you can still show your loved ones how much you care.
Weddings are the ample opportunity to utilise a personalised champagne label. Add a photo and the date of the big day to your labels as a keepsake gift for the bride and groom. We offer one of the highest quality printed results, so when you 'cheers' your glasses, you can rest assured you will be celebrating in style!
Estate agents can leave a personalised bottle of champagne for the new homeowners as a house-warming gift or as a holiday home welcome to start your stay in a positive thoughtful way.
Are you having a dinner party to celebrate a special day? Why not add mini champagne bottles to each table place as a personal touch? Our extensive range of sticker options will add the wow factor to your event. Check out a few more ways to personalise your next dinner party and have all your guests jealous.
Do you have multiple guests for whom you'd like to offer a personalised champagne gift? With our multiple designs and variable data options, you can easily split your total quantity across different designs.
A unique way for companies to thank their personal or corporate clients is with custom champagne gifts. Whether to congratulate them on the close of a deal or as a thank you to long-term clients, our champagne bottle stickers make the occasion memorable. Add your company logo sticker to your fizz for an ideal way to celebrate.
If you're looking for something different, you can make your own wine bottle labels with us too!
What is champagne brut?
Champagne labels aren't just used as decoration. You will commonly find the type of champagne on them too. Brut, meaning 'dry, unrefined or raw' in French, is the most popular type of champagne.
Brut is dry champagne. For the sparkling wine to be considered Brut, it needs to have less than 12g of added sugar per litre. Brut champagne may have slight fruity, almond or floral notes. However, it will be less sweet than other types of champagne due to the sugar content.
Champagne bottle label adhesives and finishes
When creating your own personalised champagne label, it's important to consider the material you choose. Wedding champagne labels may need a different type of material to those used to brand a product line.
Our textured off-white paper is a favourite for champagne labels due to its traditional and luxurious finish. Add a sleek, one-colour label design, and you have an expensive-looking sticker for a cost-effective price! This classic vintage paper is extremely versatile – ideal for gift labels and personalised alcohol labels.
If you're looking for a durable, long-lasting champagne label, our vinyl range is the solution. Available in various finishes, including white, clear, crystal frost and metallic, you'll find an option that works for you. Champagne labels need to stand out, regardless of whether they are on the supermarket shelf or gifted on a birthday. Our crystal frost and metallic vinyl have a premium finish, perfect for adding uniqueness to your present or professionalism to your products.
Your champagne business needs impactful product labels to encourage sales. Your champagne bottle labels are what potential customers use to make their purchasing decision, so ensure they stand out with a unique label material.
We offer a removable, permanent and extra-permanent adhesive across our material range, all of which are easy to apply. Our guide on applying vinyl labels will help you adhere your labels successfully. If you'd like further help, we've created an in-depth YouTube video on our Handy Labels YouTube channel.
A permanent adhesive usually works well for champagne bottles. However, if your bottles will be kept in the fridge or freezer or plummeted into an ice bucket, we recommend requesting a free sample pack to test our champagne label materials before placing an order.
You can also check our materials' service and application temperatures by clicking on their product pages and scrolling down to the product specification.
When ordering with Handy Labels, you can expect to receive stickers with premium print quality at competitive prices. Our labels are supplied on sheets, other than our a-size paper labels, which are cut down individually.
Order your champagne bottle labels online now!
Champagne label legal requirements
Like many other alcoholic beverages, champagne requires certain information on its labels. Some of which include:
Statement of provenance
Category of product
Producers details
Indication of the sugar content (for example, Brut, Demi-Sec)
Nominal volume
Actual alcoholic strength
Label requirements can differ, so we recommend you do further research. It is our customer's responsibility to ensure they comply with current legislation. Please read on at food.gov for more information.
Champagne label sizes
We have a handy label size guide to help you find the correct dimensions for your own label. Furthermore, we have detailed popular sizes for different bottle types.
Don't feel limited by our template sizes, though! We can produce labels in virtually any shape or size. Consider if you'd like an oval, heart-shaped, collar, or body label and get creative. We're always up for the challenge!
Champagne label FAQs
How do you make labels for champagne bottles?
Start by putting your design together. The key to a good champagne bottle label is unique and clear branding. Once you have this organised, head over to Handy Labels and choose from our extensive material list. Finally, place your order and let us do the rest!
What is on a champagne label?
Champagne labels are a fun way to add a personal touch to your bottles. Similar to other alcohol, there's specific information that needs to be included. Some of these are a statement of provenance, category of product and producer details. For more information, head to food.gov.
How do you put labels on champagne bottles?
We have a detailed video on our Handy Labels YouTube channel explaining how to apply labels by hand. If you'd like to read more on the subject, you can visit our blog post on how to apply vinyl labels.
How do you get a champagne label off?
Removing your champagne labels doesn't need to be a challenge! We have detailed how to remove labels from certain surfaces on our blog.
What do you write on a personalised champagne bottle?
Along with the necessary label requirements, consider adding a significant date, photos, kind words and favourite colours to your personalised champagne bottle labels.
What is the size of a mini champagne bottle label?
76mm x 51mm is a popular label size for mini champagne bottles. However, we recommend using our label size guide to find your correct dimensions before placing an order.
Champagne labels delivery
We know how important it is to get your champagne on the shelves quickly to compete with other brands. This is why we offer a speedy turnaround and next-day delivery to UK mainland addresses. We aim to print, finish and dispatch all orders within 48 hours of PDF proof approval. Your next day delivery to a UK mainland address is included in your online price, so there are no additional charges at checkout.
We also give you a 1-hour delivery window via text or email, so you know when your personalised champagne stickers will arrive.
Quality Guarantee
If you're not pleased with your champagne labels, then neither are we. Check out our Handy Promise.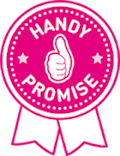 Why use Handy Labels?
Trust - we are a trusted sticker manufacturer and every order comes with our Handy Promise
No hidden extras - high quality stickers at an affordable price with VAT & delivery included
Large selections of shapes, sizes and materials
Huge material range to suit all budgets and uses
Minimum order quantity of just 25 labels
Buy stickers online quickly and easily with our simple-to-use online ordering system
Fast, helpful customer service
Rapid sticker and label turnaround times
Trackable order delivery service
Great quality and value for money
FREE label and sticker sample service
Handy Rewards loyalty benefits
UK based with all work produced in-house
Pay by Credit/Debit Cards, Paypal, Apple Pay, BACS
Unique environmentally friendly policy
Rated EXCELLENT 5 Stars by our customers