Personalise stickers with your artwork

Cost-effective marketing strategy

Huge range of durable materials

Custom cut to any shape & size

Free PDF proof
Personalised laptop stickers
Our laptops come with us everywhere we go; most of us couldn't live without them! We take them to work, to office meetings and even use them to relax. Whether you're using yours to watch Netflix or create the monthly finance report, personalise it with custom-printed laptop stickers!
We can produce labels for various types, be that hp, Macbook, Acer or Dell. In addition, we pride ourselves on our custom printing and cutting capabilities, providing you with excellent results time and time again. We recommend printing on our laminated vinyl (availabile in a glossy and matt finish) for guaranteed durability.
Regardless of your laptop decal ideas, we'd be happy to help. We've taken all of the guesswork out of the order process! Ordering online is super simple, and you'll be sent a PDF proof to approve to ensure you're happy with your design before it's printed.
Order your custom laptop stickers today and receive them within 72 hours of PDF approval.
Best uses for laptop stickers
Aesthetic laptop, tablet and mobile phone stickers turn your mundane electronics into pieces of art. Customise them with a funny quote or branding from your favourite TV show or film. For example, add decals about Deadpool, Avatar, Marvel or Snoopy. Use them as a conversation starter with like-minded people and grow your community. Start with a few independent stickers or cover the top of your laptop with a skin. If you're feeling creative, you could produce a cool, unique design to stand out from the crowd.
Personalising your laptop stickers isn't just for fun. Start-ups, small businesses and global corporations are using them as cost-effective advertising. Simply adhere your logo stickers onto your laptop and provide them as a free gift to your customers - spreading your brand exposure and keeping your company in the minds of your customer base. They are also a popular choice for security and asset management purposes. Stick a unique identifier on each device, be that a sequential number or barcode, to keep track of them.
You can also use custom laptop decals to support charities and non-profits by showcasing their logo.
Whether you want business labels to brand your electronics or a range of designs to sticker bomb your laptop, we would be happy to help.
Stickers for laptops adhesives and finishes
We have a range of materials and adhesives available, so you'll be sure to find the best option for your laptops. We recommend our laminated vinyl due to its incredibly durable, scratch-proof nature. This non-tear material can be wiped clean, staying in pristine condition.
If you need your labels to stay stuck, an extra-permanent adhesive would be the best choice. All of our adhesives can be removed from certain surfaces. However, if you're looking for an easily removable option, leaving little to no residue, our permanent adhesive vinyl labels would be for you. We recommend requesting a free sample pack to test our materials for your intended use before placing an order.
Our laptop stickers are die cut, supplied individually and cut to your custom size and shape. This makes them ideal for handing out to clients or including in eCommerce orders as a fun, free gift!
If you require die cut stickers, please only order from this page or our specific die cut stickers page. All other pages, other than our a-size paper labels page, are for ordering our standard, kiss cut labels.
All our laptop stickers are printed in-house in the UK, allowing us to monitor quality throughout the entire process.
Stand out with custom shapes
Here at Handy Labels, we're not shy of creative shapes and designs. We can cut to virtually any shape or size, making your custom die cut laptop stickers unique!
We offer custom shapes across our entire material range. Unlike other companies, we think personalised requirements should be the standard. This is especially important for computer stickers, allowing you to show your identity through printed design!
Fast, free UK delivery - start personalising your laptop now!
We aim to print, finish and dispatch all orders within 72 hours of PDF proof approval. Your next day delivery has already been included in your price, so there will be no additional charges at checkout.
This covers delivery to any UK mainland address. We also give you a 1-hour delivery window via text or email, so you know precisely when to expect your laptop stickers to arrive.
Quality guarantee
If you are not delighted with your laptop stickers, then neither are we; check out our Handy Promise.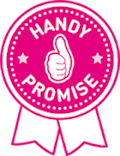 Laptop sticker FAQs
What are laptop stickers?
They personalise electronics and offer brand exposure to companies and organisations. Stickers for laptops are popular across many communities and are used to promote peoples' interests.
What do the stickers on laptops do?
An interesting use for laptop stickers is as a security measure. By adding a unique identifier to devices, businesses can easily track their items. They can also protect your laptop from scratches and wear and tear.
How are laptop stickers made?
Most companies make laptop stickers from a vinyl material, usually a durable laminated vinyl. The layer of over-laminate on this material offers protection for your printed design, meaning it can withstand being scuffed and wiped clean.
What kind of stickers are good for laptops?
If you're adding stickers on a laptop with the intention of them staying there, an extra-permanent adhesive is recommended. All of our adhesives can be removed from certain surfaces. However, if you need one that is easier to remove, a permanent adhesive is your choice. Please feel free to request a sample pack to test the adhesives on your particular laptop prior to placing an order.
Is it safe to put stickers on laptop?
Yes, as long as it is an appropriate material, stuck to the top 'clamshell' of the laptop or other appropriate areas. Also, be careful that your design does not offend others or bring unwanted attention to yourself.
How to remove stickers from laptop.
Most permanent vinyl stickers can be removed in one piece, leaving no residue. However, we would always recommend a free sample pack to test if the labels are easy enough to remove from your specific device before placing an order.
Are stickers on a laptop unprofessional?
It is best to take this case by case. We recommend checking to see if your colleagues adorn stickers on their laptops and act accordingly.
Why use Handy Labels?
Trust - we are a trusted sticker manufacturer and every order comes with our Handy Promise
No hidden extras - high quality stickers at an affordable price with VAT & delivery included
Large selections of shapes, sizes and materials
Huge material range to suit all budgets and uses
Minimum order quantity of just 25 labels
Buy stickers online quickly and easily with our simple-to-use online ordering system
Fast, helpful customer service
Rapid sticker and label turnaround times
Trackable order delivery service
Great quality and value for money
FREE label and sticker sample service
Handy Rewards loyalty benefits
UK based with all work produced in-house
Pay by Credit/Debit Cards, Paypal, Apple Pay, BACS
Unique environmentally friendly policy
Rated EXCELLENT 5 Stars by our customers