Professionally brand your products

Split quantity across multiple designs

Excellent value for money

Many materials available

Cut to custom shapes & sizes
Personalised whiskey labels
Are you looking for premium personalised whiskey labels at a cost-effective price? If so, Handy Labels can help.
Whether it's a special touch for your gifts or a way to elevate your product's packaging, adding a personalised whiskey label to your bottles is the solution.
Available in virtually any shape or size, our stickers can be customised with your own artwork so that your branding stays cohesive. If label design isn't your strong suit, don't worry! Our artwork team can help. For a small charge, they will create your whiskey label design for you to meet your every need.
We can also create a master file that you can edit, for example, with your different whiskeys' names. This makes ordering different designs extremely easy. Contact a member of our dedicated team for more information on this service.
Our whisky labels are printed here in the UK, so we can ensure high-quality and speedy delivery.
Tell your brand story through personalised whiskey bottle stickers; buy online today!
Whisky label uses
We offer whisky labels in a range of materials to suit most uses and budgets. Whisky bottle labels need to convey your brand message and stand out in the over-populated marketplace. Not only are our materials high quality, we also offer custom shape stickers to perfectly suit your packaging. Add professionalism to your products and evoke consumer trust for your brand.
As your business grows, so will your product range. With Handy Labels, you don't need to feel restricted to one design! You can split your total quantity across multiple designs, allowing you to brand your different whiskies with minimal added expenditure. So, why not edit your artwork for each of your whisky types? You could choose an eye-catching, impactful design for your blended malt and a premium-looking, one-colour design for your well-aged scotch.
You may want to switch up your labels for different celebration days throughout the year, e.g. your company's anniversary or Christmas. Read our blog on the awareness and celebration days to expect in 2022, so you can refresh your packaging accordingly.
Alternatively, you may be looking to create personalised whiskey gifts for a birthday, wedding or stag/hen party. You could add a sentimental message or favourite photo to your artwork for a truly unique whisky bottle label.
Order your cost-effective, custom whisky labels online today!
Whisky or Whiskey?
So, you've come to label your liquor and something's not quite clear. What's the difference between whisky and whiskey?
The most prominent difference between the two is the spelling. The United States and Ireland usually spell it whiskey whereas Scotland and Canada spell it whisky. You will also find whisky is the preferred spelling in Japan due to the influence of Scotch whisky on the Japanese whisky movement.
Whiskey bottle label adhesives and finishes
We understand how diverse this industry is, which is why we offer an extensive range of materials and finishing options for your stickers. Remember, your whiskey label is what initially attracts a potential buyer, so don't forget the details.
Our textured paper labels have an off-white finish to achieve the traditional whisky label look, perfect to promote luxury and fit with your high-quality brand. This material exudes style and class and has great eco-credentials all at an affordable cost.
Alternatively, if you're looking for something a little more durable, opt for our waterproof vinyl range. Available in various finishes including white, clear, metallic and crystal frost, you'll be sure to find one that suits your brand.
Making a good whiskey label is easy with Handy Labels. With our custom printing capabilities and carefully selected material options, we can produce premium whiskey stickers to fit your budget.
A permanent adhesive is usually recommended for whiskey bottles. However, we offer removable, permanent and extra-permanent adhesives across our material range. For help with applying your vinyl stickers successfully, check out our blog post.
If you'd like to test our different adhesives and finishes, you can request a free sample pack.
Once you've chosen your material, order your whisky labels on our website within a few clicks.
What are the legal requirements for labelling whiskey?
Each type of whisky requires different information on its label. As whisky is an alcoholic substance, it's crucial you research what you need to include so the consumer has all the essential product details.
There are lots of helpful resources online. For example, you can read the Scotch Whisky Regulations 2009 for help with the production, labelling, advertising and packaging of Scotch Whisky.
Whisky label sizes
We've made each step of the labelling process as simple as possible. So, you don't need to fret when it comes to your whiskey label size. Instead, use our handy label size guide to find your correct dimensions.
We can cut to virtually any custom size and shape so you don't need to feel limited by our template sizes. However, we have listed some popular dimensions for different containers in our size guide if you would like a starting point.
Whether you produce rye whiskey, scotch malt whisky, or other whiskey blends, shop your labels with us to avoid disappointment!

Whiskey label FAQs
What makes a good whiskey label?
A good whisky label will include impactful branding, clear product information and attract attention once on the shelves. As the market is very competitive, it is important to consider what will make your whiskey bottles stand out. Choosing a distinctive material like our textured paper or metallic vinyl is a great way to get your products noticed.
How do you read a whisky label?
Different whiskies will have different information on their labels to comply with legislation. In general, you will find details such as the distillery name, age, type of whisky and strength (ABV) etc on the label.
What are whisky labels made from?
Whisky labels are commonly made from textured paper to achieve the traditional label appearance. However, if you require a waterproof material, white or metallic vinyl are popular choices.
Can I buy personalised whiskey labels?
Yes, you can buy personalised whisky labels. We've made it extremely simple to order stickers that are customised to your requirements. We allow you to personalise them as needed, from artwork to shape and size.
Are whisky labels cost-effective?
Whisky labels are one of the most cost-effective ways of personalising your packaging. If you need stickers for your company or as gifts, our minimum order quantity of 25 labels will allow you to facilitate some of the smallest projects.
Whiskey labels delivery
We're proud of our fast turnaround and speedy delivery. We aim to print, finish and dispatch all orders within 48 hours of PDF proof approval. Your next day delivery to a UK mainland address is included in your online price, so there are no additional charges at checkout.
We also give you a 1-hour delivery window via text or email, so you know when to look forward to your parcel arriving!
Quality guarantee
If you're not pleased with your custom whiskey labels, then neither are we. Check out our Handy Promise.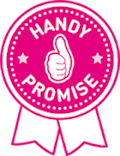 Why use Handy Labels?
Trust - we are a trusted sticker manufacturer and every order comes with our Handy Promise
No hidden extras - high quality stickers at an affordable price with VAT & delivery included
Large selections of shapes, sizes and materials
Huge material range to suit all budgets and uses
Minimum order quantity of just 25 labels
Buy stickers online quickly and easily with our simple-to-use online ordering system
Fast, helpful customer service
Rapid sticker and label turnaround times
Trackable order delivery service
Great quality and value for money
FREE label and sticker sample service
Handy Rewards loyalty benefits
UK based with all work produced in-house
Pay by Credit/Debit Cards, Paypal, Apple Pay, BACS
Unique environmentally friendly policy
Rated EXCELLENT 5 Stars by our customers