Cosmetic Labels and Stickers
Choose any shape & size

Cost-effective multiple designs service

Extensive range of finishes available

Customise with your branding

Free, quick UK delivery
Cosmetic Labels and Stickers
Need help getting started with your cosmetics labelling? We've compiled an extensive guide with design tips, downloadable industry logos, legislation advice and much more. Whether it's lip gloss labels, stickers for skincare ranges or waterproof stickers for hair and personal care ranges, we've got you covered
We've been supplying the health and beauty industry with bespoke, high-quality cosmetic label printing for many years now. Our ability to create virtually any size and shape available to fit the most demanding of product packaging has enabled businesses to gain consumer trust and recognition in one of the most competitive industries.
Some applications, like mascara or lip gloss labels, live in a fairly benign environment and have water-based contents whereas shampoo, conditioner and shower gel labels often are in prolonged contact with water. Also, some haircare, skincare and makeup bottles and jars contain oils and solvents that may tarnish or degrade the average paper label so we have vinyl laminated stickers available too.
Thanks to our years of industry experience, we're now able to create cosmetic labels and stickers of exceptional quality utilising almost any design. We know that a quality cosmetic label can be the difference between success and failure for beauty products, so you can be confident our track record of delivering again and again can be trusted.

If your beauty product comes with a unique bottle or container shape, speak to a member of our team who will be happy to discuss the various different cosmetic label options available. Many labels for personal care products require an unusual shape, give our custom stickers/labels a try if that's the case for yours.
Still not sure? Why not request a sample of your chosen cosmetic sticker material or finish for added peace of mind - just click here to order.
TABLE OF CONTENTS
Selecting the Ideal Material for Your Cosmetic Labels
When considering the correct material for your cosmetic stickers, you need to outline the level of durability required.
Will your labels be kept in a dry environment? If your cosmetic products will be kept dry, for example a makeup item or faux eyelashes, a paper label would be sufficient. Better for the environment and available in a range of finishes, paper stickers are a great way to make eco-conscious packaging choices.
Most cosmetic labels will be kept in humid or wet places, for example shampoo, conditioner or shower gel labels kept in a shower. In this instance, a waterproof vinyl sticker is recommended. If your cosmetic stickers may come into contact with oils or solvents, our oil-proof, durable laminated vinyl is preferred, available in a matt and gloss finish.
Adhesives and Finishes
Cosmetic labels are available in permanent, extra permanent or removable adhesives and can be printed onto self-adhesive paper, white or clear waterproof vinyl or metallic gold or silver waterproof vinyl in gloss and matt finishes. A protective gloss or matt lamination is also available. All our cosmetic sticky labels are digitally printed in CMYK.
Cosmetics Label Uses
Cosmetic labels are perfect for professional branding for your skincare, nail care and make-up products. Usages can vary from a simple sticky cosmetic paper label to fit a lip balm tube to a laminated waterproof vinyl label to fit a shampoo bottle. Some uses for cosmetics labels include:
Lip Gloss
Shampoo and Conditioner
Styling Products
Makeup
Nail Polish
Personal Care
Lip Balm
Skincare
Guide to measuring a cosmetics bottle
Useful Artwork
Some symbols are mandatory, some are required in certain circumstances and others are optional.
Download high-resolution personal care labelling symbols by clicking on the thumbnails below.
Shelf Life
If your cosmetic or personal care product will remain effective for less than three years after opening, an indication of the expected life span is required.
Best Before Date
Just like food, some products will become less effective a certain length of time after manufacture, in which case, a best before date is needed
Net Weight or Volume
All cosmetic or personal care labelling needs an indication of pack size and weight or volume are the most commonly used measures.
Cruelty Free
Organisations like Cruelty-Free International actively vet manufacturers to ensure compliance, you need authorisation to display this logo.

Other useful symbols
Here are some other symbols that you might find useful if they are applicable to your cosmetic or personal care product.
Happy Customers
Another satisfied customer, Sophie wanted some custom stickers for her nail care brand and we were delighted to oblige.
Cosmetic Labels FAQs
What are cosmetics labels?
The term cosmetics label refers to the stickers that are to be used on personal care, makeup and cosmetics labelling. For products such as shampoo, lip gloss, mascara, shower gel, hand cream, sunblock and a myriad of other products.
Do cosmetics labels need to be waterproof?
It depends on the product, its uses and its ingredients. A products designed to be kept in a wet environment like shampoo, hair conditioner or soap, will benefit from a waterproof label. Also, some products have a high level of organic solvents such as hair serum so they might need little extra protection with laminated labels.
What are cosmetics labels made of?
Paper labels are perfectly adequate in many cases but sometimes a sticker needs to be extra robust due to the conditions the product will be used in or the volatility of the ingredients. For example, if your product contains alcohol, cleaners or essential oils then your cosmetic label will need to have a protective over-laminate to protect the printed design from wear and tear and to prolong the life of your label.
What needs to be on a cosmetics label?
Since many cosmetics are designed to be in prolonged contact with the skin and some are applied to sensitive areas like the mouth or eyes, there are a number of labelling requirements that must be adhered to like ingredients listing. For further information see our cosmetics labelling guide.
What needs to be on a personal care label?
Most personal care products are of the use-and-wash-off variety but they are subject to the same legislation as cosmetics labels, such as batch numbers, contact information and shelf life.
Do I need to put an ingredients list on a cosmetics label?
Yes. In the UK and the EU a list of ingredients is required in order of proportion of the whole product that they represent. This is true of the USA and many other nations, check locally if you are outside these areas.
What does a rabbit in a triangle symbol mean?
The leaping bunny mark is an indication that a cosmetic product reaches the standards set out by the Corporate Standard of Compassion for Animals, an organisation that ensures the welfare of animals in the formulation and production of cosmetics and personal care ranges.
What recycling symbols need to go on a cosmetics label?
Recycling symbols are not required on the labelling of this sort of product as the packaging itself is normally embossed already by the bottle or pot manufacturer.
What does the letter 'e' on cosmetic products mean?
E stands for Estimated and signifies that the product weight or volume is an average across the whole production batch. So any individual unit may contain slightly more or slightly less than the stated amount.
What does a PAO symbol like 12M mean?
PAO stands for Period After Opening and indicates how long the product will remain effective once it has been opened. So 12M would represent 12 months. The range goes from 3 to 24 months.
Delivery
We aim to print, finish and dispatch all orders within 48 hours of PDF proof approval. Your next day delivery has already been included in your price, so there will be no surprises at checkout.
This covers delivery to any UK mainland address, we also give you a 1 hour delivery window via text or email, so you don't have to wait in all day for your order to arrive, we know how frustrating this can be.
Quality Guarantee
If you are not delighted with your cosmetics labels then neither are we, check out the Handy Promise.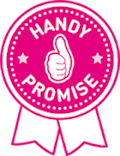 Why use Handy Labels?
Trust - we are a trusted sticker manufacturer and every order comes with our Handy Promise
No hidden extras - high quality stickers at an affordable price with VAT & delivery included
Large selections of shapes, sizes and materials
Huge material range to suit all budgets and uses
Minimum order quantity of just 25 labels
Buy stickers online quickly and easily with our simple-to-use online ordering system
Fast, helpful customer service
Rapid sticker and label turnaround times
Trackable order delivery service
Great quality and value for money
FREE label and sticker sample service
Handy Rewards loyalty benefits
UK based with all work produced in-house
Pay by Credit/Debit Cards, Paypal, Apple Pay, BACS
Unique environmentally friendly policy
Rated EXCELLENT 5 Stars by our customers