Personalise with your design

MOQ - just 25 labels

Cost-effective solution

Rapid & free UK delivery

Spread quantity across multiple designs
Personalised cider labels
Cider labels are the first thing potential customers will use to judge your company. We understand the importance of having unique, eye-catching labels personalised for your specific product.
We can produce cider labels in virtually any shape or size, using state of the art printing processes to achieve excellent results. Your personalised cider labels will elevate your packaging and create brand loyalty with potential buyers.
Not only do we have considerable expertise in the printing industry, but we also pride ourselves on our design capabilities. So if you'd like some help creating your cider label design, our artwork team will make it for you, all for a small charge.
Furthermore, we can make you a master file that you can amend with your different cider names. This way, you can easily order personalised cider bottle labels for all of your different types. Contact our friendly team for more information on this.
We offer many different templates for your cider labels if you'd like a starting point. However, don't feel limited by our template sizes. With our custom cutting capabilities, we can meet your specific needs.
This is topped off with free next-day UK delivery and our Handy Promise quality guarantee. Order your cider labels online now!
Is cider good for the planet?
When you're drinking your favourite apple cider on a beautiful summer's day, have you considered if you're helping the environment?
As the apples used in cider don't need to be the most beautiful, cider apple orchards see less food waste and can use more fruit from their harvest. Also, apples grown for hard cider don't need to interact with pesticides.
Apple orchards are great as they absorb carbon dioxide, and provide seasonal feed for livestock and habitats for wildlife.
What needs to be on a cider label?
As cider is an alcoholic substance, specific labelling requirements need to be met. You must provide all relevant product information on your labels, some of which includes:
Alcoholic strength
Allergens
Ingredients list
Best before / best before end date
(For alcoholic beverages with an alcoholic strength less than or equal to 10%)
You can find out more on what you need to include on Bromley.gov
We advise you to research the label requirements specific to your cider as it's our customers' responsibility to make sure they comply.
Cider label adhesives and finishes
At Handy Labels, you can expect cider labels that are:
Printed on premium materials using a high-resolution printing process
Available in an extensive range of finishes, from textured paper to clear vinyl
Available in a removable, permanent and extra-permanent adhesive
Personalised to your artwork, shape and size requirements
Our textured paper is a popular choice for custom cider labels as it has a traditional label look. Due to its ribbed finish, it encourages luxury and uniqueness, perfect for speciality ranges and micro-breweries. Not only this, it is very cost-effective. Paired with a professional design, let the material stand out to its maximum potential.
We also offer a vast waterproof vinyl range. Available in many different finishes, such as white and metallic, you'll be able to find a material that works for you.
Choosing white vinyl is an excellent decision if you have a full-colour design. The whiteness of the material will amplify the printed colour, especially if you opt for glossy vinyl.
Our metallic vinyl is available in two metallic colours, gold and silver. These grab the attention of your potential customers and work great for speciality ranges like a company anniversary or Christmas gifting range. Find out what awareness and celebration days are coming up in 2022 as a fun way to refresh your packaging or product line.
We have removable, permanent and extra-permanent adhesives across our range. We usually recommend a permanent adhesive for glass bottles. However, your ciders may endure extreme conditions like a fridge or freezer or get plunged into an ice bucket. If that's the case, we recommend you request a free sample pack to test before placing an order. This provides confidence that your printed cider labels will stay stuck to your containers.
You can also check the service and application temperatures for each of our materials by clicking on their product page and scrolling down to product specifications.
Our cider labels are supplied on sheets other than our A-size paper labels, which are cut down individually. They are all printed here in the UK, so we can ensure they are of the highest quality.
You have nothing to lose with our minimum order quantity of just 25 labels! Buy your personalised cider bottle labels today.
Cider label uses
Whether you require apple cider labels or fruit cider labels, we can help. The marketplace is highly saturated, so choosing a unique label material and impactful branding is crucial to stand out on the shelves.
Your printed cider stickers need to attract new customers to your brand and tell your story. What would make buyers choose your scrumpy over your competitors? The taste won't necessarily be what makes the initial sale, but your packaging will be.
Commonly, bottles of cider are sold individually, making your personalised cider labels even more important. Don't neglect the design process; consider what you could include on your cider stickers to influence shoppers to buy. For example, you could add serving suggestions, unique cider facts or a discount code to grab their attention. Encouraging customers to pick up your product and purchase it is arguably the most challenging part of the customer life cycle - let your personalised cider stickers do the work for you.
Do you have different cider flavours and need a label for each of them? If so, don't fret! With our multiple designs service, we can split your total quantity across your multiple designs to brand your entire product line.
You may want to personalise cider bottles as a gift for birthdays, stag and hen parties or weddings. An excellent idea for wedding favours could be adding a personalised cider bottle to each guest's table place. Read our blog for further thoughts on how to create personalised table decorations to host the best dinner party.
Printed cider labels for cans and bottles are usually much more cost-effective than screen printing onto cans when ordered in small quantities. Shop your cider labels here for one of the best, most cost-effective printing solutions.
Cider bottle label sizes
We've created a handy label size guide to help you find the correct dimensions for your cider bottle or can. Our custom printing and cutting capabilities allow us to produce pretty much any size or shape, so get creative!
In our guide, we have outlined some popular dimensions for different bottle types if you need a nudge in the right direction.
Try a wrap-around cider label for lots of printable space. Or, opt for individual cider stickers for your bottle's front, back and neck for a cohesive look. Regardless of your choice, we will stick to our fast turnaround promise so you can get your cider selling in the shops!
Cider label FAQs
Can I order personalised cider labels?
Yes, you can order personalised cider labels! At Handy Labels, we pride ourselves on our custom shape and size abilities across both paper and vinyl materials. So whether you're looking for personalised cider gifts or unique product labels, we can facilitate!
How do I make cider labels?
Start by organising your artwork and head over to our website, where you can order cider labels on a range of materials for cost-effective prices—making custom cider labels couldn't be simpler.
What needs to be included on a cider label?
As cider is an alcoholic substance, certain information needs to be included on your label. Some of these requirements include alcoholic strength, allergens, ingredients and best before/ best before end date. For further information, check out Bromley.gov
What materials are cider labels made from?
Cider labels can be made from various materials, including paper and vinyl. Our textured paper is a popular choice because of its traditional appearance. However, if you need something waterproof, try our waterproof vinyl range.
How do you apply cider labels to bottles?
We've created an in-depth video on our Handy Labels YouTube channel on how to apply labels by hand. You can also check out our applying vinyl labels blog post for some further information.
What size cider labels do I need?
Our handy label size guide will help you find the correct dimensions for your cider labels, be that for a bottle or a can! First, you need to choose if you'd like a wrap-around label or individual front and back stickers.
Are cider labels cost-effective for my business?
Yes, cider labels are one of the most cost-effective ways of adding your branding and product information to your containers. They attract customers, promote brand loyalty and provide essential product details.
Delivery
We aim to print, finish and dispatch all orders within 48 hours of PDF proof approval. Your next day delivery to one UK mainland address has already been included in your online price, so you don't need to pay more for speedy service!
We also give you a 1-hour delivery window via text or email, so you know exactly when to expect your delivery.
Quality guarantee
If you're not pleased with your custom cider labels, then neither are we. Check out our Handy Promise.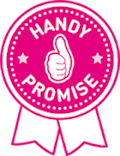 Why use Handy Labels?
Trust - we are a trusted sticker manufacturer and every order comes with our Handy Promise
No hidden extras - high quality stickers at an affordable price with VAT & delivery included
Large selections of shapes, sizes and materials
Huge material range to suit all budgets and uses
Minimum order quantity of just 25 labels
Buy stickers online quickly and easily with our simple-to-use online ordering system
Fast, helpful customer service
Rapid sticker and label turnaround times
Trackable order delivery service
Great quality and value for money
FREE label and sticker sample service
Handy Rewards loyalty benefits
UK based with all work produced in-house
Pay by Credit/Debit Cards, Paypal, Apple Pay, BACS
Unique environmentally friendly policy
Rated EXCELLENT 5 Stars by our customers