Custom shapes & sizes available
Cost-effective solution

Wide material range

MOQ - 25 labels

Free UK delivery
Personalised beer labels
As of March 2021, there are over 3000 breweries in the UK. They brew everything from vodka to beer. Beer is one of the UK's favourite drinks, and it seems like everyone wants a piece of the action. Breweries aren't the only people making it; there has also been an uptake in homebrewing. Homebrewers take great pride in their work and sometimes sell their creations.
That's why we offer completely personalised beer labels, from the size and shape to the printed design. We can produce your perfect sticker for your beer bottles at cost-effective prices.
The drinks market is saturated with a lot of great products. Our custom beer labels work brilliantly for artisan homebrewers who want to add a quality looking sticker worthy of the contents. Create your own personalised beer labels that will sell your beer, represent the quality and maximise your branding to its fullest.
We don't just brand beer bottles, we can also print beer can labels in high-quality CMYK on one of the largest material ranges.
Beer label printing
When you order a batch of custom beer labels from Handy Labels, they're printed with our state-of-the-art CMYK printers in any shape imaginable and using materials ranging from eco-paper all the way to matt laminated vinyl. All of our beer label printing is produced in the UK.
Across the internet, you'll be able to find great templates for beer bottle labels that do not cost a penny. These allow homebrewers and breweries alike to create branded beer bottles on the fly. All you'll need to do is make sure our guidelines for design and print are followed. In addition, with our small minimum order quantity of just 25 labels, you can print small-batch beer stickers or test your designs before ordering a larger amount!
If you have a personalised design already nailed down for your craft beer labels, we can create you a master template file that can be edited for each of your new brews. Keep branding consistent and cost down so that you're instantly recognisable to potential customers without any extra time or money spent.
Contact a friendly member of our team for more information on this service.
We understand the fast-paced, ever-evolving nature of the food and beverage industry, which is why we offer a huge range of beer label materials.
Choose personalised larger bottle labels in any shape and size you require. Order your custom beer labels online today!
Cheers to beers!
Have you ever wondered why we clink glasses and merrily shout cheers? One theory states that in the Middle Ages, people were known to knock cups with their fellow drinking associates to make sure they hadn't been poisoned! When the beer tankards hit, the contents would spill into the other person's drink. As long as they continued to drink it, you were able to presume your beer was safe.
Consider including a 'Did You Know?' fact on your beer labels to engage with your customers. You could utilise our multiple designs service to switch up your fact for each of your different beers, giving your customers an additional reason to try all of your flavour types.
Beer label uses
From hobby brewers and craft brewers to national breweries, the beer industry varies massively. We can produce small run, craft beer labels to suit your newly formed start-up or a larger print run split across multiple designs to facilitate your beer empire!
It's important to have a personalised, distinct design. Successful beer stickers will include impactful branding that showcases your logo and relevant product information. Product packaging entices buyers to pick up your beer and try it out. Consider what is unique about your brews and what your brand signifies, and make it clear on your packaging. If your custom beer bottle stickers follow these guidelines, your products won't go unnoticed.
An alternative use for beer stickers is as personalised wedding favours, gifts for stag/hen dos or as birthday presents. Our minimum order quantity allows you to print custom beer bottle labels for even the smallest guest lists, adding a memorable touch to your gifts.
If you're searching for personalised beer bottle labels with photo, we can help show you care!
Get 10% off your first beer label order with the code fresh10 - order now!
Adhesives and finishes for beer labels
We offer cost-effective, eco-friendly paper labels which are great for temporary uses like labelling gifts or wedding favours. Our brown kraft label material looks impressive when combined with a brown glass beer bottle.
Alternatively, check out our waterproof vinyl materials, available in a matt and gloss finish, for a premium look that offers your labels more protection. Our laminated vinyl is our most durable material option and has a layer of over-laminate to shield your printed design.
Please remember that your glass beer bottles or cans will probably endure cold temperatures in a fridge/freezer or be plummeted into an ice bucket! If you'd like to test the durability of your chosen label material before placing an order, please request a free sample pack. You can also view each of our materials' application and service temperatures by heading to their product pages and scrolling down to product specifications.
We offer a removable, extra-permanent and permanent adhesive across our material range. For a glass beer bottle, we would recommend a permanent adhesive. However, feel free to request a sample pack to check the suitability of each of them if your labels will experience more extreme conditions.
Beer labelling legal requirements
Trading Standards in the UK have relatively strict rules and regulations when it comes to alcoholic beverages. This includes beer. 
The main things that need to be on a beer label are:
Alcoholic strength within 0.5%
An ingredients list
Allergens, usually shown in the ingredients list in bold
A best before / best before end date
You can find more information on alcoholic beverages, spirits and food requirements on the Bromley.gov website.
Size of beer bottle labels
Whether you need to brand your homebrew or you're looking for the perfect labels to stand out in supermarkets, we know it's not one size fits all. We can produce virtually any shape and size you require on all of our materials, so don't feel limited by our template sizes.
We have created a handy label size guide to help you find the correct measurements for your branded beer bottles or beer cans. You'll also find some popular size ideas for different containers if you'd like a nudge in the right direction!
Once you've sorted your size, you can order online for our most cost-effective prices.
Beer labelling FAQs
How do you make beer labels?
To make beer bottle or can labels, start by finding all the essential information you need to include. Once you've sorted your artwork, head over to Handy Labels, where we will print your design onto one of our premium label materials to virtually any custom size and shape.
Can you buy personalised beer labels?
Yes, you can buy beer labels. We produce them at cost-effective prices on a range of materials and finishes. Beer bottle labels are one of the best ways to add branding and information to your products with little expenditure.
How do I print my own labels?
If you wish to print your beer labels at home, you would need to choose one of our A4 template paper materials, which are compatible with inkjet or laser printers. However, if you're happy to sit back and let us do the printing for you, you have free reign of all our material options. So, take advantage of our superb print quality today.
What should be on a beer bottle label?
Beer bottle labels do have specific requirements that need to be met. You will need to include the alcoholic strength of your beer within 0.5%, ingredients list, allergens, and a best before/best before end date, to name a few.
What makes a good beer label?
A good beer label will have distinct, impactful branding, clear product information and be cut to a custom size and shape to fit your packaging perfectly. If your label's too small, you're not taking advantage of the space on your container. If it's too big, it can look unprofessional and not stick neatly.
What are beer labels made of?
Beer labels can be made from various materials, including paper and vinyl. Our paper options are more eco-friendly, whereas our vinyl materials are a more durable choice.
How do you label beer bottles?
We have made a detailed video on how to apply labels by hand over on our Handy Labels YouTube channel. This will help you correctly adhere your beer bottle labels for a professional finish.
Delivery of your custom beer labels
Once we've received your order and you have approved your PDF proof, we will try to print and dispatch it within 48 working hours. The good news is that most of our orders are shipped and on their way before 48 hours.
Our beer labels are shipped using a next day delivery service. If you need your order delivered to a UK mainland address, you can expect fast, free delivery with no surprises at checkout. Our courier partner provides our customers with detailed delivery information, a time slot for delivery, and a tracker on their website so you can track their van.
Quality guarantee
If you're not pleased with your personalised beer labels, then neither are we. Check out our Handy Promise.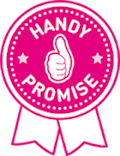 Why use Handy Labels?
Trust - we are a trusted sticker manufacturer and every order comes with our Handy Promise
No hidden extras - high quality stickers at an affordable price with VAT & delivery included
Large selections of shapes, sizes and materials
Huge material range to suit all budgets and uses
Minimum order quantity of just 25 labels
Buy stickers online quickly and easily with our simple-to-use online ordering system
Fast, helpful customer service
Rapid sticker and label turnaround times
Trackable order delivery service
Great quality and value for money
FREE label and sticker sample service
Handy Rewards loyalty benefits
UK based with all work produced in-house
Pay by Credit/Debit Cards, Paypal, Apple Pay, BACS
Unique environmentally friendly policy
Rated EXCELLENT 5 Stars by our customers