Promote your brand & grow sales

Custom cut to any bottle shape & size

Split varying designs across order

Massive choice of materials

Speedy, free UK delivery
Custom drink bottle labels
Custom drink labels are essential to brand your packaging. A sophisticated drinks label has the ability to sell the bottle itself and is an integral part of the product buying process. 
To help you achieve the perfect labels for your drinks product, we offer many sizes, shapes and materials to suit any need and budget. If our template sizes don't work for you, that's okay! We can cut any custom shape and size on all of our materials, including paper and vinyl!
We've made bottle label printing extremely easy. We have the solution, whether you require plastic bottle labels, bottle neck labels or labels for glass bottles! Use our templates to create your customised design or contact a member of our friendly team for more information on our artwork service.
You can even opt for our minimum order quantity of just 25 labels. This is perfect if you are testing your bottle labels out on a new market and target audience.
We offer custom printed:
Design your own personalised bottle labels and print them professionally at Handy Labels. Promote your brand, convey your message and boost sales.
Drink label uses
Custom drinks labels have a wide variety of uses. They are ideal for weddings, product testing, marketing campaigns and personalised corporate gifts. 
Achieve premium packaging for your craft drinks product or add a personal touch to a celebration!
Personalised bottle labels make your product unique from everything else on the shelf. Create an eyecatching bottle design and include your logo to add a professional touch while providing key information to your customers.
Custom drinks labels don't have to be for an alcoholic beverage; they can be used for carbonated drinks, cordials, teas, coffees, custom water bottles and more.
Get your bottle labels printed with Handy Labels and expect a rapid turnaround, unbelievable customer service, and competitive prices.
Custom drinks labels for small businesses
You could be a coffee shop looking to branch out into supplying high-quality cold brew coffee to your customers in the summer. You could use oval waterproof gloss vinyl labels to brand your glass bottles or reusable cups!
We provide our labels to a wide range of businesses. Small businesses take advantage of our low minimum order quantity; we can fulfil orders of 25 labels or more, meaning you don't have to break the bank to test out a new product.
Custom bottle labels, also known as bottle sticker labels, are a cost-effective way of personalising gifts too! Consider branding a bottle of booze for your best friend's 50th birthday, or as thank you gifts at your stag do. You'll be the favourite friend for years to come!
Our stickers are printed in the UK. We ship with fast, free UK delivery so you can get your branded glass bottle labels on the shelves before you can say "cheers!"
Waterproof drink labels
Alcoholic drink bottles are often kept in wet environments, such as a cool box or a big bucket of icy water, meaning their labels are prone to tearing and wearing down.
Under these conditions, use one of our waterproof vinyl materials instead. Our vinyl options are durable and come in various styles, including gloss, matt, fluorescent and more. We recommend requesting a free sample pack to test our materials in these conditions prior to placing an order for added peace of mind.
Personalise your plastic or glass bottles with a clear vinyl label to achieve the no-label look! A simple, one-colour design looks impactful and sleek when printed on our clear labels, encouraging a premium brand feel.
Keep your personalised bottle labels strong and durable with our waterproof label options.
Alcoholic regulations and warnings
Under government guidelines, you must show the following on your label (if they apply to your product):
A warning for drinks with an alcohol content above 1.2%
A warning if the product contains GM ingredients unless their presence is accidental and 0.9% or less
A warning if the product has been irradiated
The words 'packaged in a protective atmosphere' if the food is packaged using a packaging gas
If you have any other key messages, regulations and warnings, we can easily display them on your bottle stickers.
Bottle label adhesives and finishes
For many artisan producers, our textured paper labels excellently demonstrate their products' individuality and luxurious nature. Our paper range is our most cost-effective and eco-friendly range and is ideal for short term uses like personalising bottles for an event.
Our digitally printed labels are produced in high-quality CMYK and available in permanent, extra permanent or removable adhesives. These labels can be printed on self-adhesive paper, or waterproof vinyl materials in a white, clear, metallic gold or silver option. You can get these in gloss and matt finishes or protective gloss or matt lamination.
Drink label FAQs
How do you make a drink label?
Making drink labels is cost-effective and straightforward with Handy Labels. Once you have your design created, head over to our website and choose your material, shape and size. Then, upload your artwork, place your order and wait for your drink labels to be delivered to your door.
What needs to be on a drink label?
The information you need to include on a drink label will differ depending on the contents of the bottle or can. Alcoholic drink labels will require a warning for beverages with an alcohol content above 1.2%, a warning if the drink contains GM ingredients unless their presence is accidental and 0.9% or less, a warning if the product has been irradiated and the term 'packaged in a protective atmosphere' if the food is packaged using a packaging gas. Only include these points if they are relevant to your beverage.
How do I make my own bottle labels?
It has never been easier to make your own bottle labels, completely customised to your needs. We have created a handy label size guide to find the correct dimensions for your bottles. We can also design your artwork for you for a small artwork charge and have one of the broadest range of material options on the market! Moreover, we offer all of this at very competitive prices.
How much does it cost to label a bottle?
Personalised stickers for bottles are one of the most cost-effective ways of adding your special touch to your products or gifts. We can produce bottle labels for as little as a few pence per label! In addition, with our minimum order quantity, you don't need to order a large number of labels that won't be used, saving you money.
What kind of stickers goes on glass bottles?
We would recommend a permanent adhesive for stickers on glass bottles. You can opt to have your glass bottle labels printed on an eco-friendly paper material, like our textured paper, or a sleek, versatile waterproof vinyl.
How do you label glass bottles?
We have created a detailed guide on how to apply vinyl stickers on our blog. If you would prefer a visual explanation, you can check out our video on applying labels by hand on our Handy Labels YouTube channel.
Bottle label delivery
We aim to print, finish and dispatch all orders within 48 hours of PDF proof approval. Your next day delivery has already been included in your price, so there are no nasty surprises at checkout.
This covers delivery to any UK mainland address. We also give you a 1-hour delivery window via text or email, so you don't have to wait all day for your order to arrive.
Quality guarantee
If you are not delighted with your drink labels then neither are we, check out the Handy Promise.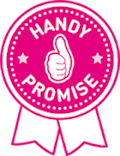 Why use Handy Labels?
Trust - we are a trusted sticker manufacturer and every order comes with our Handy Promise
No hidden extras - high quality stickers at an affordable price with VAT & delivery included
Large selections of shapes, sizes and materials
Huge material range to suit all budgets and uses
Minimum order quantity of just 25 labels
Buy stickers online quickly and easily with our simple-to-use online ordering system
Fast, helpful customer service
Rapid sticker and label turnaround times
Trackable order delivery service
Great quality and value for money
FREE label and sticker sample service
Handy Rewards loyalty benefits
UK based with all work produced in-house
Pay by Credit/Debit Cards, Paypal, Apple Pay, BACS
Unique environmentally friendly policy
Rated EXCELLENT 5 Stars by our customers