Removable Stickers and Labels
Paper or waterproof vinyl options

Popular choice for retail stickers

Low-tack, easy to remove

MOQ of just 25 stickers

Free PDF proof included
Printed removable stickers
Do you need a peelable label that can be removed from your product without leaving a sticky residue? If yes, then our removable stickers and labels are perfect for you! Most commonly used for pricing labels, our removable adhesive is ideal for short-term advertising or other temporary uses, where the label needs to be removed cleanly.
With the most extensive range of shapes and sizes available to buy online instantly, we're sure you'll find labels suitable for your application.
Removable sticker uses
Removable stickers offer a solution to your short-term labelling problems. Used mainly for point of sale to promote special offers, price points and product features, you can rely on these labels to keep up with your ever-changing product line and list of promotions. When applied to books, DVD's, household appliances, electrical goods and clothing, peelable labels will help drive sales, build brand awareness and consumer trust.
Now that we're moving into a more eco-conscious society, we're all looking for ways to minimise the amount of plastic we use. As a result, we have seen an influx of customers looking for card catch labels, also known as card clasp labels to secure their cards and envelopes, making the need for plastic wraps obsolete. Although a removable adhesive is best for card catch stickers for greeting cards, we recommend you try before you buy and order a free sample pack.
We can offer both removable paper and vinyl labels. As each material is different, the level of adhesion will differ too! Some customers may find that a removable uncoated paper label adheres well with their card and envelopes surface, while others prefer a glossy vinyl which peels off effortlessly in one-piece. Don't be put off by the idea of removable vinyl, although it is a plastic material, it's still a significant eco improvement compared with a cello bag.
A rectangular label size of 60mm x 17mm is one of the most popular for card catch stickers but they can be custom cut to any size and shape that you need.
As a retailer, you need to consider if your products could be given as a gift and, therefore, whether you should invest in some removable price labels. It's considered bad etiquette to leave a price label on a gift you give. Don't put your products at a disadvantage with hard-to-remove price labels; opt for our easy-peel stickers and thank us later!
Maybe your unique selling point is that your customers can remove the labels from your products and reuse the packaging. This is very common for candle businesses as customers can remove the candle labels and reuse the jars however they wish once they're finished with the candle itself.
If you're looking for a label that has no adhesive at all, look no further than our static cling vinyl. Ideal for displaying promotions or branding in your shop window or for adhering to the inside of car windows, our static-cling vinyl will 'stick' to any smooth, flat glass surface. This material is excellent for recurring promotions, like an annual Black Friday sale, as they can be removed, re-applied and stored away time and time again.
The benefits of removable stickers
When considering if removable stickers are suitable for your use, there are some key benefits to take on board.
If you require a label that is easy to remove, allowing your customer to take it off of your product without damaging it, you are in the right place!
Our removable labels give you the freedom to switch between short-term promotions or marketing techniques as they are easy to change. They are guaranteed to keep up with your expanding product line.
Designing your removable labels and stickers
Handy Labels can design and print almost any shape and size of removable label utilising the latest in digital printing technology.
Keep it simple with a circular price label. Add an impactful colour to the background of your artwork so that your competitive price stands out on the shelves. This is a simple yet effective way to provide relevant pricing information to your potential customers.
Why not try a custom shape label? Perfect for adding personality to your products, a custom shape can elevate your design and mirror your branding so that it's cohesive across your product range.
Suppose you're looking for removable card-catch labels, why not opt for a custom shape logo sticker to add a sense of professionalism to your packaging?
Due to our state-of-the-art printing and finishing processes, there aren't many shapes we can't offer, so the choice is yours.
Let us brand your removable labels and show you how effective this form of advertising truly is!
Removable sticker materials
We offer our removable labels in an uncoated paper or a white glossy vinyl, so you have a choice in the level of durability you opt for.
Our uncoated paper is one of our most cost-effective material options available to buy online. Great for the eco-conscious, they work well as card-catch labels, pricing labels or labels to promote special offers on your products.
If you're looking for a label with more durability, our white glossy vinyl will not disappoint. Due to its waterproof qualities, our removable vinyl labels perform well on various products, including homeware items, jars and more.
Maybe you require a non-adhesive solution; look no further than our window-cling vinyl. It's reusable and waterproof, perfect for switching between annual promotions in your shop windows or adding your branding to the inside of car windows.
Removable sticker adhesive and finishes
When considering your adhesive choices, the critical point to remember when selecting a removable adhesive is that it is low-tack. Therefore, a removable adhesive will not adhere to any low energy surfaces such as wood, ABS plastic or waxed coated surfaces like many packaging boxes are made from nowadays.
The purpose of removable labels isn't to stay stuck for long periods or to stand up against the harshest of conditions.
We've already created thousands of removable stickers and labels for a wide variety of businesses. Sometimes a permanent label won't suit your needs. So, grab a set of removable labels in either an uncoated paper or glossy vinyl finish, and let them do what they do best.
All of our removable labels are printed digitally in high-quality CMYK eco inks. Before placing an order, we recommend requesting a free sample pack to test the adhesive's compatibility with your products.
Removable stickers FAQs
What are removable stickers?
There is no strict definition, but we expect a removable sticker or label to be removed without leaving a residue from all suitable surfaces, even if the sticker has been in place for a prolonged period of time.
What makes stickers removable?
Removable stickers are made using pressure-sensitive adhesives which form a bond with the medium without changing physically or chemically and so facilitate the removal.
What are removable stickers used for?
Removable stickers are used for a variety of uses due to their two main properties. As they can be removed without residue or effect, they can be used for items that need to be label-free.
What is the benefit of a removable sticker?
A removable sticker's main benefit is that it can be removed without leaving any sticky residue behind. It's also the best fit for short-term advertising as it can be easily changed when needed.
Is removable vinyl reusable?
Our only fully reusable vinyl would be our window-cling vinyl. This material can be removed and reapplied time and time again.
How do you remove stickers?
When removing stickers, a lot depends on the adhesive. Removable and static-cling labels will normally peel straight off with little effort. However, other adhesives might be more of a challenge, especially if they have been there for some time. In this instance, we recommend a heat source, such as a hairdryer, to heat the glue, which will become malleable, making the sticker easier to remove.
Are vinyl stickers removable?
We offer vinyl labels with a range of adhesives. It simply depends on the adhesive used, not the material. Vinyl with a permanent or extra-permanent, high-tack adhesive can also be removed but will need more effort to soften the glue before removal.
Why would you use removable vinyl?
You would typically use removable vinyl labels when you need to remove the label without causing damage to your product or leaving any adhesive behind. Popular uses include candle labels for jars, card-catch labels and price labels.
What's the difference between removable and non-removable stickers?
The flip side of removable sticker adhesives is, unsurprisingly, non-removable. There are various adhesives out there, however, the most common factor is a more permanent bond. The extent of this bond depends on how porous the material it's stuck to is. The difference between removable and non-removable stickers is in the adhesive. Removable stickers and static-cling have pressure-sensitive forces that hold the sticker in place. These forces can be relatively easily broken, whereas non-removable adhesives are much stronger.
Delivery
We aim to print, finish and dispatch all orders within 48 hours of PDF proof approval. Your next day delivery has already been included in your price, so there will be no surprises at checkout.
This covers delivery to any UK mainland address. In addition, we give you a 1 hour delivery window via text or email, so you never miss your parcel!
Quality Guarantee
If you are not delighted with your removable labels then neither are we, check out the Handy Promise.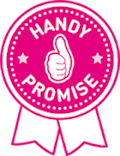 Why use Handy Labels?
Trust - we are a trusted sticker manufacturer and every order comes with our Handy Promise
No hidden extras - high quality stickers at an affordable price with VAT & delivery included
Large selections of shapes, sizes and materials
Huge material range to suit all budgets and uses
Minimum order quantity of just 25 labels
Buy stickers online quickly and easily with our simple-to-use online ordering system
Fast, helpful customer service
Rapid sticker and label turnaround times
Trackable order delivery service
Great quality and value for money
FREE label and sticker sample service
Handy Rewards loyalty benefits
UK based with all work produced in-house
Pay by Credit/Debit Cards, Paypal, Apple Pay, BACS
Unique environmentally friendly policy
Rated EXCELLENT 5 Stars by our customers