Flowers & Florist Stickers
Make your florist brand stand out

Cut to any custom shape & size

Wide choice of finishes

MOQ of 25 stickers

Great value
Flower stickers for florists
Say it with flowers, and adhere a branded florist sticker to your beautiful blooms to maximise the exposure of your floristry business. Let your customers know what flowers you've used to create their bouquet or provide them with care instructions to make their flowers last longer. The possibilities are endless; keep reading to find out how you can add custom flower stickers to your business branding.
Florist sticker uses
If you're looking for a way of upgrading your packaging, simply add a logo sticker to your outer wrapping paper or cellophane and a few identifying labels to showcase the beautiful blooms used. It's something that sets you apart from your competition so, if you have pride in your floral products, shout it loud.
Another way to stand out from the crowd is to add a care label to your outer packaging with instructions to help your flowers last as long as possible. Why not choose a removable adhesive so that the care sticker can be easily removed and kept after the unneeded packaging is thrown away? This way, you encourage brand loyalty as your logo will be in your customers' homes for longer, whilst also giving them the best care advice for their bouquets.
Don't let your hard work go to waste! Make sure to pop your contact details on your flower labels too. You're giving happy customers the chance to return or pass your details onto others, allowing your customer database to flourish!
We've spoken about how flower stickers and florist labels can help your customers, but what about how they can help you?
Use labels to organise your bouquets for large events such as weddings. Label the bouquets for bridesmaids, flower girls and the bride herself, so you know you're ready for the big day! If you create bouquets for the tables, pop a label on each placeholder to explain who you are and what's included in the blooms. This will plant a seed of your business in the minds of the guests and encourage them to use you for their future events.
Retail tags, pricing labels and logo stickers are all a great way of providing relevant information at a small price. However, try focussing on offering something different to the rest to gain the attraction of potential customers.
Florist sticker materials
We offer one of the widest ranges of sticky label materials for your florist stickers in the UK. With Handy Labels you are sure to find one that works for you.
If you're looking for a simple and cost-effective option, choose a material from our eco-friendly paper range. If you need your labels to be slightly more durable, our wipeable glossy paper would be a good choice as they can withstand the odd splash of water.
However, due to the nature of your product and the likelihood of your florist labels getting wet, a waterproof vinyl might be better for you. Our waterproof sticker materials come in an extensive range of finishes, from metallic gold and silver to sparkly crystal frost.
Florist sticker adhesives and finishes
If you would like your customers to keep their care label, or be able to remove a price label without leaving a sticky residue, a removable or easy-peel adhesive would be best for your use. If you're looking for something a little stronger, our permanent adhesive is for you.
For the material and finish, uncoated or glossy paper is a popular choice and our most cost-effective offering. However, as flowers spend much of their time in and around water, a waterproof material might be something you would like to consider. Try our vinyl range for guaranteed durability.
Flower and florist sticker FAQs
What are flower stickers?
Flower stickers can either mean stickers for flowers or ones with flowers in the design. Since we make custom stickers, we can produce both. However, this page is specifically for flower sellers to identify themselves and their products.
Do you need to put warning signs on flowers?
Unless there is a specific warning requirement for a particular plant you are using, there is no need to do so. However, it might be worth covering yourself by warning people about thorns, toxicity or staining where appropriate.
What would you put on flower stickers?
You can put the basics like contact information and company logo; however, we advise you to think like the customer and include the information that is relevant to them. This could include offers, details on the flowers you've used and care instructions.
What are florist stickers?
Florist stickers have information about the retailer, including address, phone number and website. They are also often used to seal the bouquet so that it doesn't unravel.
Why would a florist use stickers?
Stickers are a largely untapped marketing resource for many florists. Promotional information like website address, physical address and other contact details can be included on florist stickers as well as offers and other sales efforts. Every flower sale is an opportunity to advertise your brand.
How much do florist labels cost?
Our website makes it super simple to find a price for your custom flower labels. Due to our printing and finishing processes, our custom florist labels cost little compared to other retailers. Our prices are competitive as well as our quality so, win-win!
Designing flower stickers
So, you've decided which flower labels will make your business flourish, now you need a design to match.
If you're looking for an eco-friendly, earthy option to blend in with your natural product, why not opt for a simple white design on our brown kraft paper. Your brand logo can take pride of place on your labels. Try personalising your design further by changing the wording of the flower type or name of the bouquet using our multiple designs service. Keep it understated whilst still making an impact.
If you're looking for a label with the wow factor, why not choose a custom shape and size? Add emphasis to your offering with a flower-shaped label and change the colour of your printed design to compliment the blooms they are adhered to.
Delivery
We aim to print, finish and dispatch all orders within 48 hours of PDF proof approval. Your next day delivery has already been included in your price, so there will be no surprises at checkout.
Our next day delivery includes delivery to any UK mainland address. We will also provide you with a 1 hour delivery window via text or email, so you know when to get excited to receive your new custom stickers!
Quality Guarantee
If you are not delighted with your flower and florist labels then neither are we; check out the Handy Promise.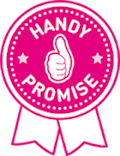 Why use Handy Labels?
Trust - we are a trusted sticker manufacturer and every order comes with our Handy Promise
No hidden extras - high quality stickers at an affordable price with VAT & delivery included
Large selections of shapes, sizes and materials
Huge material range to suit all budgets and uses
Minimum order quantity of just 25 labels
Buy stickers online quickly and easily with our simple-to-use online ordering system
Fast, helpful customer service
Rapid sticker and label turnaround times
Trackable order delivery service
Great quality and value for money
FREE label and sticker sample service
Handy Rewards loyalty benefits
UK based with all work produced in-house
Pay by Credit/Debit Cards, Paypal, Apple Pay, BACS
Unique environmentally friendly policy
Rated EXCELLENT 5 Stars by our customers