Durable & waterproof 

Cut to your custom shape & size

Personalised with your design

Wide choice of finishes

MOQ of just 25 stickers
Car stickers for business branding
Car stickers and labels are a great way to show your personality whilst on the go! You can create your own custom stickers for your car, whether it's to present your business, for a club, or just for fun. Create your own personalised car stickers for your vehicle today!
Express your creativity with unique bumper stickers, business labels and funny rear view window stickers - we've got a range of options to deck out your car, van, truck or bike. Car stickers also get a great response from other road users who often find them amusing and fun.
We can batch print huge amounts of car stickers for yourself and others. Our service is simple and easy to use, so you can get the labels you want for your vehicle.
Car stickers and labels uses
Our car stickers are great for events, clubs, breweries, charities, parking permits, universities and much more. Show off something you are a part of that is important to you, or express yourself with a favourite quote or lyric.
Business car stickers are a perfect way to show off your company, and maybe even attract some new customers! Represent who you are with our personalised car stickers.
Choose from any shape, size, material and colour, and create your very own custom car window sticker or label. Browse our options now.
Car stickers FAQs
Are car window stickers removable?
Car window stickers that are designed to be removed, our static cling, window materials will easily peel straight off ready to use again and again, but some adhesive stickers are designed to stay put. Avoid trying to scrape the glue off as that might scratch the glass, try using nail varnish remover (acetone) instead.
Are rear window stickers illegal?
Rear window stickers are not illegal in the United Kingdom but the regulations state that all glass or transparent material in a car must be kept in a state that will not obscure the view of the driver.
Are car stickers removable?
Yes, car stickers applied to the exterior bodywork can be removed. Generally, heating the sticker's glue with a hairdryer helps to prise the sticker away without damaging the paintwork. Car window stickers tend to be a more straightforward proposition to remove. A removable adhesive or static cling material should be used for this sticker's purpose.
What stickers are used for cars?
The material you require for your car stickers will depend on where you want to stick it! If you would like a sticker for the inside of your car windows, a
window cling vinyl
is the perfect choice. This sticker material can be used on exterior car windows too, as long as the car remains stationary, for example, parked in a dealership showroom.
For the exterior bodywork of the car, we would recommend a laminated vinyl with a permanent adhesive. For any plastic areas, like a plastic bumper, you would need to opt for laminated vinyl with an extra-permanent adhesive.
Are stickers good for cars?
Car stickers have many benefits. If you're a company, you can use car stickers to add branding to your vehicles, sparking interest in potential customers in the areas local to your business.
We can also offer car stickers for personal use! Put a smile on the faces of fellow drivers with a funny bumper sticker, or use them to personalise your vehicle and express yourself! The possibilities are endless.
What kind of stickers go on car windows?
A window cling vinyl is the best option for car windows. Due to their peel and reuse nature, our window cling vinyl can be changed out when you see fit, allowing you to alter the look of your vehicle as often as you'd like. You are welcome to choose from white window vinyl or transparent window vinyl.
What type of stickers are bumper stickers?
If you have a plastic bumper, you would require an extra-permanent adhesive. This is because some plastics class as low-energy surfaces. Our laminated vinyl is an excellent option for bumper stickers, offering you durability and longevity even in the harshest of conditions.
If you're not sure which adhesive would work best for you, request a free sample pack and test them out yourself!
Are car stickers waterproof?
Car stickers are generally waterproof as they are often exposed to the elements. If you would like to order a waterproof car sticker from us, you would need to choose one of our vinyl materials. We recommend our laminated vinyl to keep your labels looking pristine for years even after exposure to water and UV rays.
Will they come off in a car wash?
If you need your labels to endure going through a car wash, our laminated vinyl with a permanent adhesive is the choice for you. Due to their layer of over-laminate, these labels will withstand some of the toughest conditions.
Delivery
We aim to print, finish and dispatch all orders within 48 hours of PDF proof approval. Your next day delivery has already been included in your price, so there will be no surprises at checkout.
This covers delivery to any UK mainland address, we also give you a 1 hour delivery window via text or email, so you don't have to wait in all day for your order to arrive, we know how frustrating this can be.
Quality Guarantee
If you are not delighted with your car stickers then neither are we, check out the Handy Promise.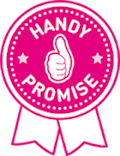 Why use Handy Labels?
Trust - we are a trusted sticker manufacturer and every order comes with our Handy Promise
No hidden extras - high quality stickers at an affordable price with VAT & delivery included
Large selections of shapes, sizes and materials
Huge material range to suit all budgets and uses
Minimum order quantity of just 25 labels
Buy stickers online quickly and easily with our simple-to-use online ordering system
Fast, helpful customer service
Rapid sticker and label turnaround times
Trackable order delivery service
Great quality and value for money
FREE label and sticker sample service
Handy Rewards loyalty benefits
UK based with all work produced in-house
Pay by Credit/Debit Cards, Paypal, Apple Pay, BACS
Unique environmentally friendly policy
Rated EXCELLENT 5 Stars by our customers