Varied material range

Cut to custom shapes & sizes

Spread quantity across multiple designs

MOQ of 25 labels

Buy online
Personalised Wine Bottle Labels
Design your own personalised wine bottles for delivery. Get your brand on a wine bottle label and show it off to the world, leveraging our printing expertise for the perfect label every time. We even have a promise to guarantee customer satisfaction.
Wine bottle labelling has never been easier; simply supply your design in any one of our templates or make your own and let us work our magic.
We pride ourselves on our custom printing and cutting capabilities, allowing us to offer wine stickers in virtually any shape or size, regardless of your chosen material.
When ordering from Handy Labels, you can expect:
A customisable sticker from design to shape and size
Excellent print quality on all materials
Fast and free delivery to a UK mainland address
Responsive customer service and support
Handy Promise Guarantee
Shop our extensive range of professional wine bottle labels now!
Innovative ways to use wine labels
You could use custom wine labels, sometimes known as wine bottle decals, for many different things.
Maybe you're the bride and groom at a wedding and want to add a personal touch to each table? Opt for our luxurious textured paper, personalised with your names and wedding date to add that finishing touch to your special day. Personalised wedding labels are an excellent keepsake for both bride and groom and their guests!
Businesses could provide bottles of wine with personalised labels to clients as thank you presents. A prime opportunity for this is as an estate agent. Gift your clients a custom bottle of wine to celebrate the moving day or to mark completion!
Funny wine labels are a great way to spread cheer with friends and family. Whether it's for a gift at stag or hen parties or to celebrate your best friend's 40th birthday, add a humorous quote or image to your bottles and make the day memorable!
Alternatively, you might be making your own vino and want to start selling it; let us help you create the perfect wine label to skyrocket your brand. With our multiple designs function, we can print different flavours and ingredient lists within the same print run, providing you with a cost-effective solution to market all of our products.
Whether you produce merlot, sauvignon blanc or chardonnay, you need your stickers to express your vino's premium, exquisite taste. After all, your customers will use your labels to decide whether to choose your wine or your competitors'. With effective branding and high-quality print, you're giving your products the best chance of getting picked, accomplishing the most challenging part of the purchasing process.
If you're a craft wine producer and struggle to find a label supplier who can facilitate small order quantities, don't fret! We have a minimum order quantity of just 25 stickers.
Buy your personalised wine labels online for our most cost-effective prices.
Prosecco labels
Prosecco is an Italian wine that's popularity has soared. Arguably, due to it being affordable and readily available in many supermarkets, Prosecco has a large customer base in those aged 18-24, with over 95% saying they drink Prosecco when surveyed. Find more interesting prosecco facts.
Take this information into your marketing strategy when creating your personalised prosecco labels. Consider using an impactful material that evokes luxury, like our metallic or crystal frost vinyl.
Or, if you're looking for a fun way to customise prosecco bottles for a hen do, wedding or birthday party, our minimum order quantity and cost-effective prices make it easy to celebrate in style.
If prosecco isn't your style, we can create personalised champagne labels at cost-effective prices!
Wine label legislation
The UK government website has a clear guide on wine labelling with specific ones for sparkling and still wines. A wine label needs to include the descriptor' wine', the provenance in which it has come from, i.e. wine of England or produced in England. Allergens, some of which may include sulphur dioxide, milk or eggs, and of course an alcoholic percentage. It is our customers' responsibility to make sure they comply with current legislation so please ensure you complete your own research.
Wine bottle label adhesives and finishes
Opt for a vintage appearance with our traditional, cream textured paper. Also known as an antique white, ribbed material, the textured paper gives a unique look for craft wines or luxury gifts. It's cost-effective and available in virtually any size meaning you can truly personalise it to fit your brand and wine bottle.
Alternatively, we have a range of waterproof vinyl materials, available in a matt, satin and gloss finish, which offer added durability. Our metallic vinyl is an effective choice and is available in a silver or gold finish. Promote your speciality wine, company anniversary or special discounts with this impactful but sleek material option.
Your vino or prosecco bottles will probably endure cold and wet conditions in a fridge, freezer or an ice bucket. You can choose to request one of our free sample packs to test an extensive list of our materials for your specific use. This way, you can be confident in your label decision before placing an order. You can also read our materials' service and application temperatures on their product pages.
A removable, permanent and extra-permanent adhesive is available across our material range, so you'll be sure to find an option that works for you!
Most of our labels are supplied kiss-cut on A4 sheets other than our a-size paper stickers, which are individually cut down. Either option makes applying your labels to your wine bottles extremely quick and easy.
How do you put a label on a wine bottle?
Follow the simple steps below to learn how to apply our personalised wine labels:
First, clean the wine bottle and ensure the surface is dust and debris free
Lay the bottle on a flat surface
Make sure the bottle is completely dry
Add the label to the wine bottle, ensuring it is level
If applying a vinyl label, use a smooth plastic card to remove any bubbles under it
Our adhesives are pressure sensitive so the more pressure you apply, the better the labels will stick!
Repeat the process until you've applied all of your labels. Once you've got the hang of it, applying them couldn't be easier.

Wine label size guide
We've made it simple to find the right size label for your purpose. Simply follow our handy guide to find your dimensions. We also advise some popular label sizes for certain containers.
Please don't feel restricted by our template sizes, though! We can produce virtually any shape or size you can imagine across all of our material range, be that paper or vinyl. If you'd like some help ordering your wine bottle labels with custom measurements, head over to our online chat, where a friendly customer service representative will be happy to help.
Wine label FAQs
How do I make custom wine labels?
Simply create your design, choose your dimensions, select your material and head over to our website for custom printed wine labels at a cost-effective price.
Can I make my own wine labels?
Yes, you can. We've made the whole process of printing your wine labels super simple. All you need to do is place your order with your required design, and we will take it from there! We can even create your artwork for you for a small artwork charge. If you want to design them yourself, you can check our customisable wine templates available in our online design tool!
Can you print wine labels?
Yes, we use state of the art CMYK printing machines to achieve the highest quality print for your wine labels.
How do you hand label wine bottles?
To apply a wine label by hand, you'll want to follow a simple process. We have explained more on this page and also have a detailed video on our Handy Labels' YouTube channel showing you the best practices.
What are our labels made of?
Wine labels can be made from many materials. Usually, deciding factors are price and durability. Our textured paper material mirrors the look of a traditional wine label and has a luxurious finish. If you're looking for added durability, choose a material from our waterproof vinyl range.
Delivery
Handy Labels aims to print, finish and dispatch all wine label orders within 48 hours of PDF proof approval. Your next day delivery has already been included in your price, so there will be no nasty surprises at checkout.
We use a fast and reliable service with tracking throughout when delivering your stickers.
Our free delivery is available for any UK mainland address. We also give you a 1-hour delivery window via text or email, so you don't have to wait at home for your order to arrive.
Quality guarantee
If you are not delighted with your personalised wine labels then neither are we, check out the Handy Promise.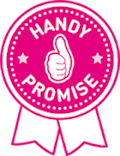 Why use Handy Labels?
Trust - we are a trusted sticker manufacturer and every order comes with our Handy Promise
No hidden extras - high quality stickers at an affordable price with VAT & delivery included
Large selections of shapes, sizes and materials
Huge material range to suit all budgets and uses
Minimum order quantity of just 25 labels
Buy stickers online quickly and easily with our simple-to-use online ordering system
Fast, helpful customer service
Rapid sticker and label turnaround times
Trackable order delivery service
Great quality and value for money
FREE label and sticker sample service
Handy Rewards loyalty benefits
UK based with all work produced in-house
Pay by Credit/Debit Cards, Paypal, Apple Pay, BACS
Unique environmentally friendly policy
Rated EXCELLENT 5 Stars by our customers