Water Bottle Labels & Stickers
Personalise with your brand logo

Cut to fit any bottle shape & size

Big choice of label materials

Excellent value for money

Rapid, free UK delivery
Personalised water bottle labels and stickers
If you're looking for a great way to promote your brand effectively, custom water bottle labels could be the answer. You might have an upcoming charity event, fun-run or sports event where stickers for water bottles can raise awareness about your brand and ultimately drive sales.
Water bottles are ideal for business meetings, conventions, conferences or even as part of a promotional gift basket. Away from business use, personalising a water bottle label design with names or dates makes them perfect for weddings, birthdays, christenings and more. There really are so many uses for this type of label.
Our water bottle stickers can be printed in a wide range of sizes, shapes, colours and materials so you can really get creative with your designs. With custom water bottle labels to suit any budget and requirement, you can take advantage of our low minimum order quantity of just 25 labels!
When creating a personalised water bottle label for business branding you may have a couple of questions on sizing and creating your own custom stickers, we created guides to answer our commonly asked questions.
Water bottle labels adhesives and finishes
Available in permanent, extra permanent or removable adhesives depending on material choice.

We do not recommend our low-tack, removable adhesive if applying to a plastic water bottle. Water bottle labels can be printed onto a white or clear waterproof vinyl in a matt or gloss finish, a self-adhesive paper in an uncoated, gloss or brown kraft finish. Our water bottle labels are printed digitally in high-quality CMYK.
Ready to get your label designed? Why not use our templates to get a head start. Once your labels have been delivered you can find a video on how to apply the labels by hand.
Water bottle label and sticker usage
Why not have your very own branded bottles at a spa or health and fitness club? Or use custom water bottle stickers with embarrassing photos of the bride and groom at a wedding.
How professional would a branded bottle of water look in the boardroom? Even if your company doesn't have a boardroom and you've rented a conference room at a hotel for the day, having that branded bottle gives your company a certain credibility. It can be done for a tiny outlay but it puts zero's on the perception of your company's worth.
It doesn't have to stop with water bottles, food labels, and Health & Safety labels are also possibilities, talk to us to find out more.
Water bottle labels FAQs
Can you put stickers on a water bottle?
The kind of water bottle you take to the gym or the commercial single-use variety can both have stickers put on them. Standard vinyl or laminated vinyl stickers are best if you want them to survive the rigours of the gym and being washed and reused.
What are water bottle labels?
Water bottle labels are usually the type you might find on a bottle of mineral water available as a retail product or a personalised freebie at a conference or other event like a wedding or christening for that extra touch.
What are water bottle stickers?
Water bottle stickers are likely to be on reusable water bottles or flasks often by school kids to personalise their belongings. These can be customised and vinyl or laminated vinyl is more durable than paper stickers, so is preferred.
What material is used for water bottle labels?
Labels for retail or commercial promotional products often have standard paper as the material for water bottle labels. These are designed for single-use and do not need to be that durable. However, waterproof vinyl is often used when a bit of extra strength is required.
How do you apply water bottle labels?
When applying your water bottle labels, ensure you adhere the label to a clean, dry surface and condensation is not present; otherwise, the adhesive will not perform.
What are uses for personalised water bottle labels?
Personalised water bottle labels can be used for a variety of occasions and circumstances. Corporate promotional products are a popular way to stick out from the crowd at conferences and exhibitions but less serious events like weddings and birthdays are also enhanced by a bit of personalisation.
What regulations are there for water bottle labels?
As with all products intended for consumption, water bottle labels have regulations on what needs to be on the label. Among these are net average volume, name and address of the entity responsible so the consumer can get in touch, description, best before date and storage requirements.
What size is a water bottle label?
The most common sizes are indicated on the right of this page. Otherwise, this is often governed by the size of the bottle that you intend to use. The manufacturer of the chosen bottle should supply the appropriate dimensions. Alternatively, you can find the circumference and therefore the size of your label by using these measuring tools on our site.
Can water bottle labels be personalised?
All our labels and stickers can be personalised with whatever design that you need and in the case of the vinyl range they can be made in any shape and almost any size you could possibly need.
Are personalised water bottle labels waterproof?
Water bottle labels can be waterproof if you choose the correct material, usually Vinyl. Paper stickers are water-resistant but will not cope with prolonged exposure whereas vinyl labels, especially when laminated, will withstand almost anything you can throw at them.
Most popular water bottle label size
250ml (25cl) Water Bottle - Label size 125mm x 36mm
Available in the template section during order process
500ml (50cl) Water Bottle - Label size 195mm x 50mm
Available in the template section during order process
1.5L Water Bottle - Label size 275mm x 60mm
Available as a custom size
Many bottle sizes differ so please ensure your bottle will accommodate these sizes.
Please use our Handy printable ruler to measure the bottle you're considering.
Click above to download the handy ruler in pdf format and print it at 100% scale. Please install Adobe Acrobat Reader if you haven't got it already.
Delivery
We aim to print, finish and dispatch all orders within 48 hours of PDF proof approval. Your next day delivery has already been included in your price, so there will be no surprises at checkout.
This covers delivery to any UK mainland address, we also give you a 1 hour delivery window via text or email, so you don't have to wait in all day for your order to arrive, we know how frustrating this can be.
Quality guarantee
If you are not delighted with your food and beverage labels then neither are we, check out the Handy Promise.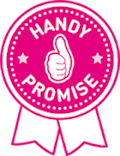 Why use Handy Labels?
Trust - we are a trusted sticker manufacturer and every order comes with our Handy Promise
No hidden extras - high quality stickers at an affordable price with VAT & delivery included
Large selections of shapes, sizes and materials
Huge material range to suit all budgets and uses
Minimum order quantity of just 25 labels
Buy stickers online quickly and easily with our simple-to-use online ordering system
Fast, helpful customer service
Rapid sticker and label turnaround times
Trackable order delivery service
Great quality and value for money
FREE label and sticker sample service
Handy Rewards loyalty benefits
UK based with all work produced in-house
Pay by Credit/Debit Cards, Paypal, Apple Pay, BACS
Unique environmentally friendly policy
Rated EXCELLENT 5 Stars by our customers