Quality Control Labels and Stickers
QC label range to suit any purpose

Labels surface can be written on

Brand with your company logo

Free PDF proof included

Quick, online ordering
Create quality control labels easily online
Quality control labels, also known as inspection stickers or customised pat test stickers, instil confidence and professionalism within the workplace. Quality control labels have many uses, but some of their main goals are to help you account for inventory and ensure elements of your workflow. For example, if materials and equipment meet required parameters by labelling when plant machinery and equipment was last tested. This will inspire confidence in the operator of the equipment.
Your business must comply with current legislation. Once you know what quality control labels you require, we offer a customisable order process. You can choose whether to have your labels branded or anonymous. There are two routes you can go down when it comes to inspection stickers or QC labels. You can have them anonymous where you have the standard information like pat test date, inspectors initials, date the next inspection is due etc. Or you can opt to have them branded.
Branding your quality control labels puts details like your company name and logo in front of potential customers. Most businesses have multiple portable appliances and occasions where the inspection stickers will be on view; don't let this valuable real estate go to waste!
Most QC labels require a blank space for both date and signature to be filled in to ensure accurate records are kept. Remember to include this in your artwork during the design stage.
We've made it super easy to order your own quality control labels online and for a competitive price, no less! Our quality control labels are almost fully customisable, so you can design them to best fit your requirements! Simply follow the order process through to the artwork stage, where you'll have an array of options, from providing your artwork or having it created. Our bespoke service elevates our offering as each QC label requirement is different. Your quality control labels should fit your business; don't bend your requirements to fit a label!
Quality control sticker uses
Quality control labels are a staple in many workplaces. Due to their vast array of uses, QC labels can be found in almost every element of your workflow. Be it to ensure administrative tasks are carried out accurately or that your equipment or final product meets required standards, quality control labels are vital to creating a safe workspace where employees feel confident to perform their day-to-day tasks. You can also utilise them to provide important information at a moment's notice, for example, best before dates or as QC passed labels to identify when something has passed quality control.
Quality control labels come in many variations. We urge you to look into which is the best fit for your business and which allows you to comply with current legislation.
Quality control label materials
We know that quality control labels have many jobs. That's why we offer an array of materials to accommodate this. Our paper label range is our most cost-effective option and is excellent for labels that don't need to be too durable. However, if you need waterproof QC labels, our vinyl range would be perfect for you. Available in a range of finishes, including white, clear and metallic options, you'll be sure to find a material that suits your needs.
An important element of most quality control labels is durability and longevity. If you need your label to stay intact until our machine's next service, opt for our laminated vinyl material. It is our most durable material option, and ensures that your label will be good to go, even after long periods of time!
All of our quality control labels are printed in house in the UK, so you can trust us to dispatch your order swiftly after proof approval. With our vast range of material options, you'll be sure to find one that fits your use. If you're still unsure of which to choose, opt for our free sample pack to try before you buy!
Quality control sticker adhesives and finishes
We offer a removable, permanent and extra-permanent adhesive across our material range. The adhesive you choose is determined by the surface you want to adhere your labels to. Our permanent adhesive is our 'all-rounder.' Its level of adhesion suits a range of sticker uses. If you need a stronger adhesive option, or if you'll be adhering your labels to low-energy surfaces, our extra-permanent adhesive would be best.
Quality control label FAQs
What are quality control stickers?
Quality control labels help you ensure that elements of your workflow, for example, materials and equipment etc., meet required stipulations. They can also allow you to keep track of items in your inventory and make sure that administrative tasks are carried out accurately. Furthermore, they can provide important information, such as best before dates or the date of when your machine's next service is due.
What is the role of quality control?
Quality control essentially refers to the process a company goes through to determine whether the quality of its product is satisfactory or whether it has improved or decreased. From this, they can act accordingly to ensure their product quality is consistently high. Businesses must keep a rigorous product quality control process by continually checking their products and providing the correct training to staff, along with other factors.
What are the four types of quality inspection?
There are four main stages of quality inspection: pre-production inspection, during production inspection, pre-shipment inspection, and container loading (or loading) supervision. Depending on your business, product etc., some of these steps may not apply to you. An additional stage is a piece by piece inspection, where a company would check each individual item.
Who is responsible for quality control?
The project manager is usually responsible for quality management. However, certain circumstances may see the use of quality experts or a quality assurance person. It's important that you delegate these roles correctly for your particular business/product.
Delivery
We aim to print, finish and dispatch all orders within 48 hours of PDF proof approval. Your next day delivery has already been included in your price, so there will be no surprises at checkout.
Your next day delivery covers delivery to any UK mainland address. Say goodbye to waiting all day for your parcel! You'll receive a 1-hour delivery window via text or email, so you know exactly when to expect your quality control labels!
Quality guarantee
If you are not delighted with your quality control labels then neither are we, check out the Handy Promise.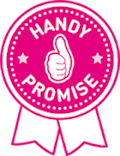 Why use Handy Labels?
Trust - we are a trusted sticker manufacturer and every order comes with our Handy Promise
No hidden extras - high quality stickers at an affordable price with VAT & delivery included
Large selections of shapes, sizes and materials
Huge material range to suit all budgets and uses
Minimum order quantity of just 25 labels
Buy stickers online quickly and easily with our simple-to-use online ordering system
Fast, helpful customer service
Rapid sticker and label turnaround times
Trackable order delivery service
Great quality and value for money
FREE label and sticker sample service
Handy Rewards loyalty benefits
UK based with all work produced in-house
Pay by Credit/Debit Cards, Paypal, Apple Pay, BACS
Unique environmentally friendly policy
Rated EXCELLENT 5 Stars by our customers