Personalise stickers with your artwork

Ideal to hand out at events

Custom cut to any shape & size

Supplied individually

Cost-effective marketing strategy
Personalised, printed die cut stickers
Die cut stickers are the modern version of a business card. Use them to promote your brand, personalise your belongings or provide them as a special gift to customers.
At Handy Labels, we have made it super easy to order custom die cut stickers online. Follow the above order process and expect to receive highly competitive prices and a speedy turnaround time. All of our labels are printed in-house in the UK so that we can ensure high quality at some of the lowest prices.
If you require die cut stickers, please only order from this page or our laptop stickers page. All other pages, other than our a-size paper labels page, are for ordering our standard, kiss cut labels.
Give your artwork a boost by turning it into a custom shape die cut sticker. Even whilst stuck to the backing sheet, your die cut stickers will look like the finished product. This makes them ideal for including as a thank-you gift at events or in your eCommerce orders.
We can print, finish and dispatch die cut orders quickly too! We estimate a 72 hour lead time from proof approval. What's not to like?
Why die cut labels?
When labels are described as die cut, they are custom cut to the shape of your design through the sticker and backing sheet. Therefore, your labels will look the same when stuck to the sheet and when peeled away, giving your design all the attention.
This is different to kiss cut labels, which are still cut to the shape of your design, but only through the sticker, leaving backing paper around the outside of your label. Usually, kiss cut labels are supplied as multiple-up on a sheet. Whilst they have benefits, they are not as effective as handouts at events or as gifts. If you'd like to read more on the debate between kiss cut and die cut stickers, we have outlined their differences and when each should be used in the blog post above.
Custom die cut stickers are occasionally referred to as cut out stickers as they are cut out of the backing paper they are printed on and supplied individually. They look most effective when cut to a custom shape to show off the personality behind your designs!
Shop die cut stickers with Handy Labels today. Our handy promise gives customers the confidence to try something new, knowing they are in safe hands throughout the entire process.
Die cut sticker uses
When looking into sticker printing, you would have considered which label type would be most suitable for your intended use. Some of our favourite uses of die cut stickers are:
Stickers to decorate personal belongings like laptops, water bottles and mobile phones
Custom die cut decals for car bumpers, bikes and windows
Free gifts in customers' orders or to hand out at events. You could even consider handing them out to promote upcoming events for attendees to stick in their journals or calendars
Logo stickers to increase brand awareness or personalise company assets
Large die cut stickers to adhere to walls or doors as company signage
This custom sticker option is available in a range of adhesives and finishes, making them great for indoor and outdoor use.
Die cut sticker adhesives and finishes
We offer die cut stickers in a range of materials to meet almost every potential use. Most customers want a durable option that is waterproof, scratch proof and will not fade. For this, we would recommend our laminated vinyl. The protective layer of over-laminate will keep your printed design in pristine condition in all weathers. They are tear-proof, too, making them the ultimate durable option!
Alternatively, we offer eco-friendly paper options, perfect for those who want a greener choice. It's never been simpler to order custom die cut stickers to suit any purpose!
Most of our materials can be written on with a fine-tip permanent pen or ballpoint pen. You can also choose from a removable, permanent and extra-permanent adhesive across our material range. We recommend requesting a free sample pack if you want to test the adhesive on your items and see our quality first-hand.
We offer crack-backing on some of our die cut materials for easier peeling. If this is a requirement for your labels, please get in touch, and we can advise which materials are compatible with this.
Buy today and receive a 10% discount on your first die cut label order using the code new10
Die cut stickers FAQs
What is a die cut sticker?
A die cut sticker is a label that is cut to the shape of your artwork through the sticker and the backing paper. This means they look the same when stuck to the backing paper as when removed and applied to your products or surfaces.
What is the difference between die cut stickers and kiss cut stickers?
Die cut stickers are cut through both the sticker material and the backing sheet and are supplied individually. Kiss cut stickers are only cut through the stickers' top layer, not the backing sheet. This leaves the excess backing paper to protect the cut stickers' edges and is supplied on sheets for easy peeling.
How do die cut stickers work?
Die cut stickers are very straightforward to use. You will receive individually supplied labels so you can hand them out at events or add them to your eCommerce orders. Then, you or your customers can peel the backing sheet away and apply the stickers wherever needed. You can still peel a die cut sticker from their sheet pretty easily!
Is die cut better than kiss cut?
The battle between die cut and kiss cut stickers has been present in the label community for a while; which is better is up to you! You need to consider it case by case; think about your intended use, how easy you need them to peel and apply and how you would like your end product to look.
Can I have my sticker cut to any shape?
Yes, we can produce die cut stickers to virtually any custom shape and size. Simply choose custom at the shape stage, upload your artwork with a custom vector cut path following your custom shape and place your order!
Will I see a preview of my artwork?
Yes, you will receive a PDF proof to approve before printing to ensure you're happy with your artwork. Feel free to consolidate our artwork guidelines to check if your design is set up correctly.
Are die cut stickers waterproof?
If you require waterproof die cut stickers, please choose one of our vinyl materials.
Are die cut stickers expensive?
Not with Handy Labels! We have done all we can to keep costs low as we know our competitive prices are well received by our 63,000 returning customers.
Can you put die cut stickers on car?
Yes, you can put die cut stickers on a car. We recommend our laminated vinyl with an extra-permanent adhesive for low-energy surfaces like plastic car bumpers. For the car body, a laminated vinyl with a permanent adhesive should suit and for the inside of windows, opt for one of our window cling vinyls. Please request a free sample pack if you would like to test our available options before committing to an order.
Delivery
We aim to print, finish and dispatch all orders within 72 hours of PDF proof approval. Your next-day delivery has already been included in your price, so there will be no additional charges to worry about at checkout! This covers delivery to any UK mainland address.
We know how frustrating waiting for your parcel can be. This is why we also give you a 1 hour delivery window via text or email, so you know when to expect your package.
Quality guarantee
If you are not delighted with your die cut stickers then neither are we, check out the Handy Promise.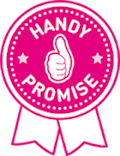 Why use Handy Labels?
Trust - we are a trusted sticker manufacturer and every order comes with our Handy Promise
No hidden extras - high quality stickers at an affordable price with VAT & delivery included
Large selections of shapes, sizes and materials
Huge material range to suit all budgets and uses
Minimum order quantity of just 25 labels
Buy stickers online quickly and easily with our simple-to-use online ordering system
Fast, helpful customer service
Rapid sticker and label turnaround times
Trackable order delivery service
Great quality and value for money
FREE label and sticker sample service
Handy Rewards loyalty benefits
UK based with all work produced in-house
Pay by Credit/Debit Cards, Paypal, Apple Pay, BACS
Unique environmentally friendly policy
Rated EXCELLENT 5 Stars by our customers