Personalise with your branding

Cut to your exact shape & size

Available in many materials

Excellent value for money

Quick, free UK delivery
Easily create hand sanitiser labels and stickers
In response to our ever-changing world, the demand for hand sanitiser is at a high. From a business or personal perspective, the proliferation of these products has gathered pace, be it as a gel, spray or foam! That's why we've made it incredibly easy for you to order your own hand sanitiser stickers.
Choose personalised hand sanitiser labels for your event or business and feel at peace knowing you've made it a safer place.
Hand sanitiser gels are a relatively new invention, but antiseptics have been used to wash hands for centuries. Due to the advent of new viral diseases like bird flu, SARS and the recent covid-19 pandemic, businesses can't afford to neglect offering hand sanitiser to their customers. Brand your 'front of house' hand sanitiser dispensers and collection of hand sanitiser bottles with our custom hand sanitiser labels, so they're in keeping with the rest of your restaurant or brick-and-mortar store.
Our hand sanitiser stickers are simple to order and quick to arrive, so your only concern needs to be what to put on them!
Whether you're looking for name labels for hand sanitiser bottles or hand sanitiser stickers for your wedding, we've created a seamless process from ordering to delivery, so you have that added peace of mind. Now that larger events are in full swing, it's essential that you keep your attendees safe. So choose hand sanitiser labels for your wedding and customise each one with your guests' names. Once you've added these to your table settings, you'll be sure to impress with your unique touch!
Due to recent world events, hand sanitiser gels have intercepted most of our daily tasks. That's why we have a range of materials to cover all intended uses, from offering personalised hand sanitisers at baby showers and weddings to customising your bottles and dispensers in your cafe.
We can even help you if you're a hand sanitiser seller. Brand your bottles and stand out on the shelves! Whatever your intended use, make sure to comply with regulations by displaying your required legal information and warning symbols where appropriate.
Hand sanitiser labels for businesses
When designing the interior of your restaurant, cafe or brick-and-mortar store, you wouldn't have dreamt of leaving your menus plain or your product tags unbranded. So, why stop at hand sanitiser? It looks like hand sanitisers will be a staple in most street-side businesses for the foreseeable future. So, utilise our cost-effective hand sanitiser labels and customise your dispensers to match your business' aesthetic.
You could get creative and dispose of reserved signs in your restaurant or cafe all together! Use our multiple designs service and have some of your hand sanitiser labels printed with 'reserved' on them and the others without. Your staff can then use these to differentiate between reserved and unreserved tables. Opt for our laminated vinyl material for its wipe-clean nature and reuse your hand sanitisers time and time again.
Labelling requirements for hand sanitiser
Hand sanitiser labels need to meet specific regulations. Some hand sanitisers are classed as a type of personal care product and are subject to the same regulations. We have produced an extensive guide to the labelling of cosmetics and personal care products but a brief list of requirements would include:
Ingredient listing
Batch code or number
Contact details
Size, weight or volume
Shelf life or best before date.

Various warning symbols can also be needed in certain circumstances; see our guide for further details.
Although our guide is a great starting point, it's our customers' responsibility to ensure all required information is included on the artwork they supply and their labels comply with the requirements for their particular product.
Hand sanitiser label FAQs
How do you label hand sanitiser?
Hand sanitiser labels need to include a range of information to comply with legal requirements. For example, the World Health Organisation advises that you display the name of the active ingredients, precautions for use and transport and the concentration in metric units, along with other details. We recommend our customers to do in-depth research to ensure their labels meet all requirements, as this would be their responsibility.
What size label do you need for hand sanitiser?
The size of your hand sanitiser labels will depend on your container. We have a detailed guide on how to measure your hand sanitiser bottles to find the correct size label for your use. We also offer a range of materials available in custom sizes, so you'll be sure to find one that fits!
Are there warning labels on hand sanitiser?
Some hand sanitiser labels will require warning symbols. Check out our guide for more information on warning symbols for personal care products. Make sure to research which symbols your labels need and amend your artwork accordingly.
What are hand sanitiser labels?
Hand sanitiser labels are used to brand your hand sanitisers and display relevant information about your products to comply with legal regulations.
How do you make hand sanitiser labels?
Once you've got your artwork sorted with your branding and all legal information included, making your hand sanitiser labels is pretty simple. Just choose your required material and follow the order process through to checkout. Once your order has been placed and paid for, you'll need to look out for your PDF proof for approval. After approval, we'll do the rest of the work and dispatch your labels for a swift delivery!
Hand sanitiser sticker materials and adhesives
We offer a vast range of materials for hand sanitiser stickers to fit the majority of uses. Our laminated vinyl is the material we most commonly recommend for hand sanitiser labels. Its protective layer of over-laminate shields your printed design from organic solvents and other antiseptic chemicals. These labels make up for their higher cost with their excellent durability and longevity.
You can rest assured that your laminated vinyl hand sanitiser labels will stay in great condition after use. If cost is a dominating factor in your material decision, not to worry! Our vinyl labels are waterproof and still offer a level of durability. Paper labels are more cost-effective, but they are less durable.
Your adhesive choice largely depends on the surface you need your labels to adhere to. For most bottles, a permanent adhesive should stay stuck. However, our extra-permanent adhesive would be a better option if you would like an adhesive with added strength or need your labels to adhere to a low-energy surface.
As always, be sure to check out our free sample pack first if you're unsure of your material choice. It's a great way to try before you buy, giving you added confidence that you've made the right decision!
All of our hand sanitiser stickers are printed in house in the UK, so you can rely on our dedicated team to prioritise high-quality results time after time.
Sizes for hand sanitiser bottles
Bottle sizes range from 30ml pocket sizes to slightly larger travel sizes that can be taken on aeroplanes if below 100ml. Freestanding, wall-mounted and refill containers are also available in various sizes up to about 1000ml.
We offer a thorough guide to measuring your bottles to find your correct hand sanitiser sticker size. We also recommend cutting a piece of paper to your required size to make sure they fit your containers before placing your order.
Delivery
We aim to print, finish and dispatch all orders within 48 hours of PDF proof approval. Your next day delivery has already been included in your price, so there will be no surprises at checkout.
Your next day delivery includes delivery to any UK mainland address. We also provide a 1 hour delivery window via text or email, so you know when to expect your hand sanitiser labels at your front door!
Quality guarantee
If you are not delighted with your hand sanitiser labels then neither are we, check out the Handy Promise.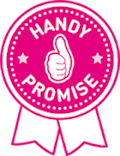 Why use Handy Labels?
Trust - we are a trusted sticker manufacturer and every order comes with our Handy Promise
No hidden extras - high quality stickers at an affordable price with VAT & delivery included
Large selections of shapes, sizes and materials
Huge material range to suit all budgets and uses
Minimum order quantity of just 25 labels
Buy stickers online quickly and easily with our simple-to-use online ordering system
Fast, helpful customer service
Rapid sticker and label turnaround times
Trackable order delivery service
Great quality and value for money
FREE label and sticker sample service
Handy Rewards loyalty benefits
UK based with all work produced in-house
Pay by Credit/Debit Cards, Paypal, Apple Pay, BACS
Unique environmentally friendly policy
Rated EXCELLENT 5 Stars by our customers