Health & Safety Labels and PAT Test Stickers
Cost-efficient solution

Choose from a range of materials 

Produced to any shape & size

High-quality digital print

Quick online ordering
PAT test and health & safety stickers for businesses
Health and safety labels are an important requirement for UK businesses looking to minimise the risk of accidents or injuries that can happen in the workplace.
Our range of health and safety labels and PAT test stickers, help you comply with the latest legislation whilst promoting your brand or highlighting the importance of your message. We offer a vast amount of sizes, shapes and materials to suit any budget.
All businesses in the UK understand how important health and safety is in a workplace. With our selection of over 30 materials, shapes and sizes, you can easily incorporate safety into your organisation with a highly cost-effective solution. Our materials include: fluorescent stickers, clear matt waterproof vinyl and white cling vinyl which is perfect for window stickers.
Whatever you need your sticker to say, all our stickers can be custom made allowing you to upload your own artwork. Once your PDF artwork has been approved, your stickers will be on their way to you within 48 hours. For more information on shapes, sizes and templates check out our help & support guides.
We have a minimum order quantity of just 25 labels, which gives you the flexibility to pick and mix various designs ensuring the welfare of staff and visitors are covered in the workplace.
Unsure what you need? Get in touch with our team who will be happy to help. You can also request sample health and safety stickers using our online request form here.
Health & safety labels adhesives and finishes
Our health and safety labels and PAT test stickers are available in permanent, extra permanent or removable adhesives. We recommend the high tack extra permanent in most scenarios as these types of stickers need to stay stuck. PAT test stickers in either our paper or waterproof vinyl materials can be written on with a ball-point pen or permanent marker.
Health and safety labels can be printed onto a white waterproof vinyl with either a matt or glossy finish. Add a protective over-laminate with a matt or gloss finish for durability and to extend the life of your health and safety label.
All our health and safety stickers are digitally printed in high-quality CMYK, for excellent results.
Health & safety sticker uses
Our health and safety labels make great warning stickers, first aid stickers, fire safety stickers and chemical safety stickers.
Legislation on health and safety labelling is well established and all employers are required by law to display them where appropriate. Handy Labels supply labels and stickers for all uses including for health and safety.
Some workplaces & industries that may require health and safety labels or pat test stickers include:
Schools
Construction & building sites
Offices
Warehouses
Shops and trading places
Restaurants and catering
Health and safety stickers FAQs
What are health and safety stickers?
Health and safety stickers help to show people various warnings that are mandatory in the workplace and elsewhere in the UK, EU and further afield. These can take different forms, plastic signs are a familiar one but a sticker is just as effective and can be customised to include branding and other information.
What are PAT testing stickers?
PAT testing stands for Portable Appliance Testing. It is the process of checking electronics for safety through a number of tests. PAT testing is done by electricians or equivalent and is the best way to know if your electronics meet strict safety standards. Once you know your electronics are safe you can use a PASSED PAT test sticker to confirm the check, date and who it was done by.
What do you need to put on health and safety stickers?
Health and safety signage in the UK has a well established set of guidelines and rules that are regulated by the Health and Safety Executive and a free guide can be downloaded from their website.
What are the 4 most common types of safety signs?
The four most common types of health and safety signs are 1. Prohibitive and Fire. 2. Warning. 3. Mandatory and 4. Safe Zones. Each has its own design features and colour codes.
What do the colours on health and safety signs mean?
In general, red signs mean that you shouldn't do something, a yellow sign is warning you of a hazard, blue signs are instructing you to do something and green signs indicate safety such as on an emergency exit.
How many health and safety colours are there?
There are 4 main colour schemes that are found on health and safety signs. 1. Red, Prohibitive and Fire. 2. Yellow, Warning. 3. Blue, Mandatory and 4. Green, Safe Zones.
What are health and safety stickers made of?
We supply more than 30 different materials on which stickers can be printed but for clarity and durability, white glossy vinyl or laminated white glossy vinyl are recommended.
What surfaces can health and safety stickers be stuck to?
Our permanent or extra permanent adhesives will keep stickers stuck to most clean, dry and smooth surfaces.
What's the advantage of health and safety stickers over normal signs?
Plastic signs need to be fixed by some method like screws or cable ties whereas with stickers, you simply peel and stick.
Delivery
We aim to print, finish and dispatch all orders within 48 hours of PDF proof approval. Your next day delivery has already been included in your price, so there will be no surprises at checkout.
This covers delivery to any UK mainland address, we also give you a 1 hour delivery window via text or email, so you don't have to wait in all day for your health and safety stickers to arrive, we know how frustrating this can be.
Quality Guarantee
If you are not delighted with your PAT test and health & safety labels then neither are we, check out the Handy Promise.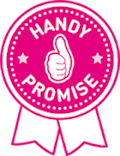 Why use Handy Labels?
Trust - we are a trusted sticker manufacturer and every order comes with our Handy Promise
No hidden extras - high quality stickers at an affordable price with VAT & delivery included
Large selections of shapes, sizes and materials
Huge material range to suit all budgets and uses
Minimum order quantity of just 25 labels
Buy stickers online quickly and easily with our simple-to-use online ordering system
Fast, helpful customer service
Rapid sticker and label turnaround times
Trackable order delivery service
Great quality and value for money
FREE label and sticker sample service
Handy Rewards loyalty benefits
UK based with all work produced in-house
Pay by Credit/Debit Cards, Paypal, Apple Pay, BACS
Unique environmentally friendly policy
Rated EXCELLENT 5 Stars by our customers