Professionally showcase your brand

Custom cut to suit any jar

Excellent value for money

Choice of many materials

Fast, free UK delivery
Jar labels
If you require labels for jars, we have you covered. Jar labels are the perfect way to show off your product, and give important information to customers.
Not only are jar labels an excellent way to beautifully present your own personal brand, but they can also help those who have allergies and intolerances to identify certain ingredients.
Our jar labelling system allows you to choose the shape and size of the label you want, as well as the design, materials, adhesive, quantity and more. Upload your own label designs or ask us to help
TABLE OF CONTENTS
Jar labels uses
Printed personalised jar labels are becoming increasingly popular due to their adaptability for different uses. Whether you are a small business owner offering a collection of homemade preserves, or a local beekeeper selling honey, we've got you covered.
Create labels for your spice jars to easily organise your food storage space. You can make labels that show the contents or quantity of your jars, meaning your kitchen cupboards are easier to navigate. Spend less time searching for the right spice by adding a handy label!
As well as this, if you have any unique selling points or store policies (for example, returning and reusing glass jars), we can display these messages on your custom made jar labels. Show your brand in the best possible light!
Jar labels can also be used for homemade aromatherapy or as cosmetic product labels. We can show off your unique products with the right label. Design your own label, which displays your own logo and ingredients.
A newly popularised organisational hack is to label your pantry jars. Hop on the trend with Handy Labels free templates. Use our sticker maker to easily make your perfect pantry labels.
Whatever your need, our personalised jar labels will do the trick.
Lid seal stickers
Now that you have your labels sorted for the body of your jar, think about adding a lid seal sticker. Tamper proof seals for jars are an ideal way of reassuring your customers that their product hasn't been opened prior to purchase.
Our paper labels work great as tamper proof seals as they will rip when you open the jar. Alternatively, if you're looking for a waterproof option, we can add a perforation to any of our vinyl materials to ensure they tear on opening.
Jar lid seal stickers can be custom made in several ways. The most popular option is a single piece seal label with the lid label and sealing arm combined. Alternatively, a separate round lid label and tamper proof jar strip can be used to create the same professional result.
For the best tamper proof results, we recommend to stick your lid seal label and sealing arm to your jar first and then apply your main label around the body of your jar, ensuring the top of your main label covers the bottom of your seal label. This keeps your lid seal label in place and creates another security seal. See Rosie's Relish jars image below for reference.
Customise your lid seal labels with your logo and contact information. Branding your jar seal labels is an excellent way of getting the most from your stickers, making your products look professional and stand out on the shelf from competitor brands. Our custom lid seal labels are available in virtually any shape or size due to our state-of-the-art printing and cutting processes.
To calculate the overall size of your lid seal labels, simply measure the width of the jar lid label and the height of the jar lid label to the end of the tamper proof jar strip. Enter this custom size when prompted on your order journey.
If you decide to opt for the two-piece label approach, choose a relevant shape and size for your lid label and a rectangle label to fit your jars security strip needs.
Jar Label Materials
Our waterproof vinyl labels are available in white, clear, gold and silver materials, and can be personalised to any shape or size you require. We also offer several adhesive strengths to suit your needs.
Clear labels for jars are proving very popular, especially when combined with a single colour, designed and printed in white ink.
Alternatively, you can opt for uncoated paper, which is our most cost-effective material. This fits well with companies that have an environmental ethos.
If you would prefer a paper material option which is splash-proof, why not give our glossy paper labels a try? With its wipe-clean nature, it offers that added peace of mind.
Most Popular Jar Label Sizes
220g Jar Small FRONT Label - 60mm x 60mm - TEMPLATE SIZE
220g Jar Small LID Label - 37mm Round - TEMPLATE SIZE
220g Jar Small WRAP AROUND Label - 195mm x 50mm - TEMPLATE SIZE
390g Jar Medium FRONT Label - 80mm x 67mm - TEMPLATE SIZE
390g Jar Medium LID Label - 51mm Round - TEMPLATE SIZE
390g Jar Medium WRAP AROUND Label - 225mm x 60mm - CUSTOM SIZE
500g Jar Large FRONT Label - 80mm x 75mm - TEMPLATE SIZE
500g Jar Large LID Label - 51mm Round - TEMPLATE SIZE
500g Jar Large WRAP AROUND Label - 238mm x 74mm - TEMPLATE SIZE
SEALING TAB Label - 140mm x 20mm - TEMPLATE SIZE
Many jar sizes differ, so please ensure your product will accommodate these label sizes.
Please choose the Custom option if you require an exact size or shape. Online, we offer one of the most extensive ranges of printed labels for jars in the UK, but if you can't see the size you require in our paper label range, please call our customer support team on 01275 460516 or use the online chat widget, and we can help.
For information on how to successfully apply your custom jar label, please visit https://www.handylabels.co.uk/finishing-touches.
Adhesives and finishes
Jar labels are available in permanent, extra permanent or removable adhesives. These can be printed onto self-adhesive paper, white and clear waterproof vinyl, in both gloss and matte finishes. Also available in gold, silver metallic vinyl or crystal frost vinyl.
Delivery
We aim to print, finish and dispatch all orders within 48 hours of PDF proof approval. Your next-day delivery has already been included in your price, so there will be no surprises at checkout.
This covers delivery to any UK mainland address, we also give you a 1 hour delivery window via text or email, so you don't have to spend all day inside waiting for your order to arrive, we know how frustrating this can be.
Quality guarantee
If you are not delighted with your jar labels then neither are we, check out the Handy Promise.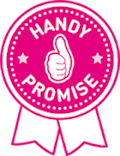 Why use Handy Labels?
Trust - we are a trusted sticker manufacturer and every order comes with our Handy Promise
No hidden extras - high quality stickers at an affordable price with VAT & delivery included
Large selections of shapes, sizes and materials
Huge material range to suit all budgets and uses
Minimum order quantity of just 25 labels
Buy stickers online quickly and easily with our simple-to-use online ordering system
Fast, helpful customer service
Rapid sticker and label turnaround times
Trackable order delivery service
Great quality and value for money
FREE label and sticker sample service
Handy Rewards loyalty benefits
UK based with all work produced in-house
Pay by Credit/Debit Cards, Paypal, Apple Pay, BACS
Unique environmentally friendly policy
Rated EXCELLENT 5 Stars by our customers