Barcode Labels and Stickers
Perfect for retail applications

Personalise with your unique design

Premium material options

Hassle-free, fast UK delivery

Outstanding value and quality
Custom Barcode Labels and Stickers
Barcode labels are one of the most widely used label types in the UK and are featured on almost any product you buy. They have a series of thin and thick lines with variable spacing that normally denote an 8 to 15 digit code that is registered to correspond to a company and product. They are also used for other methods of identification, such as patients in hospitals.
At Handy Labels, we offer customised barcode label printing services to meet the specific requirements of your industry. Whether you're a retail business requiring labels for inventory management and pricing, a manufacturer tracking raw materials and finished goods, a warehouse requiring efficient organisation and logistics management, or a healthcare provider ensuring patient safety and medication management; we can offer labels that will fit your requirements.
With a low minimum order quantity of just 25 labels, our barcode stickers cater to small businesses or those wanting a trial run before placing a larger order. All printing is carried out in-house in the UK, promising high-quality results for each barcode label we produce.

Variable Barcode Printing: Customised Solutions for Unique Barcodes on Each Label
Do you require a unique barcode printed on each label? If so, we can help! We offer a variable data service whereby you can supply us with the data to create your unique barcodes, and we can incorporate them into your label design along with your brand logo, so each label has a different barcode printed.
Variable barcodes are an effective way for companies to track assets, conduct inventory management and keep tabs on stock. As each sticker will have a unique barcode, you can assign the goods with their own code, streamlining the process.
If you don't require a design, that's fine too! We would make sure your barcodes are print-ready and appropriate to fit your label size. In either case, you'll receive a PDF proof from our artwork team to approve before your variable barcode labels are printed.
Printing barcode labels with Handy Labels allows you to obtain tailored results at an affordable price, eliminating the need for any compromise.
Barcode Label Uses
Labels can contain a wealth of unique product data enabling the smooth running of your business. If you need additional information on your products but don't want it visible, barcode stickers are the perfect solution.
Many industries utilise barcode label stickers to organise production, sale and inventory tracking processes.
Retail companies like supermarkets and department stores add barcodes to pricing stickers, use them to identify products and simplify their checkout process.


Food and beverage companies find them helpful to manage important information, like best-before dates and for accurate stock management.


Logistic companies, healthcare providers, warehouses and automotive companies all see the benefits of incorporating barcode stickers into operations, be that for storing essential information, tracking important deliveries or machine parts or ensuring customer safety.
Order barcode stickers from Handy Labels and streamline your business processes!
Barcode Label Stickers Material Options
For optimum scannability, print your barcodes on a white or light background to ensure good contrast.
At Handy Labels, we have a variety of material options to choose from:
If you'd like to obtain a sample to check our sticker materials for your use, just click here for more information and we'll be happy to help!
Adhesives and finishes
We offer a removable, permanent and extra-permanent adhesive across our paper and vinyl material ranges. Each adhesive has its benefits; it's up to you which one works best for your use!
Removable Adhesive: If you sell products that will likely be gifted, such as flowers, opt for our labels with removable adhesive. This will enable your customer to remove the barcode label before they give their gift to its recipient. Other common uses for removable barcode labels are paper book or magazine covers and greeting cards.


Permanent Adhesive: Our permanent adhesive is our most popular choice, and it's appropriate for most labelling uses. If you're looking for labels for cosmetics, candles or food products, our permanent adhesive would be your go-to choice. Ideal for barcode labels that you need to stay stuck when on supermarket shelves and be thrown away with the product's packaging.


Extra-Permanent Adhesive: For asset tags or durable barcode labels, our extra-permanent adhesive is preferred. Recommended for low-energy surfaces such as some plastics, our extra-permanent adhesive is our high-tack option. Although it's super strong, it can still be removed from certain surfaces.
With our vast range of options, choose us for sticker printing to avoid disappointment.
Barcode labels FAQs
Can I order barcode labels in custom shapes and sizes?
Yes, with Handy Labels' custom cutting capabilities, your barcode labels can be created in virtually any shape or size imaginable. Remember, the larger the sticker, the easier your barcodes will scan. We recommend opting for no smaller than 30mm x 20mm.
What is the minimum order quantity?
Our minimum order quantity is 25 labels. This makes Handy Labels the ideal barcode printer for small run jobs or to trial them before placing a larger order.
Can I see a PDF proof of my barcode labels before they are printed?
We will send you a PDF proof to approve before printing your barcode labels so that you can iron out any issues with our expert artwork team.
How do I create my own barcode?
A barcode is a graphical interpretation of a series of letters and numbers, and as long as the name and any codes or numbers are unique, the barcode will be usable. However, in practice, it's better to apply for one and have it registered by GS1.
While it is not strictly necessary to use GS1 for your barcodes, doing so can provide advantages in terms of compatibility, credibility, and global recognition. Suppose you choose to create barcodes without GS1. In that case, you might face compatibility issues with some retailers, distributors, or scanning systems, which could limit your product's reach and impact your overall business operations.
If the manufacturer of the product has taken the time to register the product with the appropriate body (and the vast majority do), then each should have its own unique barcode. Although the barcode is unique to the product, it is not evidence of authenticity since it is just a method of representing a series of letters and numbers and can therefore be reproduced.
What are the different types of barcodes you can print on the labels?
The main two types of barcodes are one-dimensional and two-dimensional. 1D or linear barcodes have further subdivisions, but they all work on lines and gaps of varying widths stood vertically. 2D like QR (quick response) codes run on the same principle but instead of lines, there are dots spaced out vertically and horizontally that a reader can interpret.
First-generation, linear or one-dimensional barcodes have a couple of disadvantages. They have a limited amount of information they can represent unless they become very long and therefore unusable. 2-dimensional codes are still limited but the amount of information they can convey is much higher.
If you're after QR code labels, Handy Labels offers those, too, on a wide range of materials.
How do I apply the barcode labels to my products?
Applying couldn't be simpler! We've created a detailed video which takes you through the process, from cleaning your container, if necessary, applying the label in the correct place and making them look professional and sleek.
Delivery
We aim to print, finish and dispatch all orders within 48 hours of PDF proof approval. Your next day delivery has already been included in your price, so there will be no surprises at checkout. Your next day delivery covers delivery to any UK mainland address. Alongside this, we also give you a 1-hour delivery window via text or email, so no more waiting around for your parcel to arrive! More on Handy Labels delivery.
Quality Guarantee
If you are not delighted with your barcode labels then neither are we; check out the Handy Promise for details on our returns policy. We want all of our customers to be pleased with the stickers they receive, which is why we have our Handy Promise Guarantee in place to help you if you receive a faulty order (which we hope never happens)!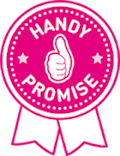 Why use Handy Labels?
Trust - we are a trusted sticker manufacturer and every order comes with our Handy Promise
No hidden extras - high quality stickers at an affordable price with VAT & delivery included
Large selections of shapes, sizes and materials
Huge material range to suit all budgets and uses
Minimum order quantity of just 25 labels
Buy stickers online quickly and easily with our simple-to-use online ordering system
Fast, helpful customer service
Rapid sticker and label turnaround times
Trackable order delivery service
Great quality and value for money
FREE label and sticker sample service
Handy Rewards loyalty benefits
UK based with all work produced in-house
Pay by Credit/Debit Cards, Paypal, Apple Pay, BACS
Unique environmentally friendly policy
Rated EXCELLENT 5 Stars by our customers