QR Code Stickers and Labels
Customise with varying QR codes 

Popular choice for asset labels

Cut to any shape and size

Wide choice of materials

Speedy, free UK delivery
Create your own QR code stickers
QR Codes (Quick Response) are two-dimensional barcodes that can be scanned by users to access websites, content and other information. They are increasing in popularity due to their fast readability with smart phones and greater storage capacity compared to standard UPC barcodes.
Perfect for advertising and marketing, stick a unique QR Code label onto your current products or displays to launch a promotional micro-site, a new product or service. QR Code labels are generally printed onto a white or light coloured contrasting background to ensure good readability.
QR code stickers are even great if you have a short-term promotion or event you'd like to market to your customers. Choose an overlay sticker to add to your current branding to promote a seasonal offer without significant upheaval to your products.
With Handy Labels, you can create QR code labels to fit even the most demanding of environments. Maybe you need QR stickers for restaurant tables that will be wiped down or exposed to the elements? If so, opt for our laminated vinyl with an extra-permanent adhesive. It has a layer of over-laminate to protect the print on your QR code labels, keeping them in pristine condition for many years.
TABLE OF CONTENTS
QR code sticker uses
The popularity of QR code stickers is increasing, primarily down to the product's versatility. They offer a quick and easy way to link to websites, social media platforms and sites to download apps.
In addition to this, QR code labels allow your business to create a marketing scheme that encourages customers to circle back through the sales funnel. Use QR code labels to direct your customers back to your website, app or social media after purchase. This prompts them to re-purchase, check out your product of the month or could give them access to a VIP promotion.
Furthermore, QR code stickers can be used to provide extra product information rather than squeezing it all onto your product label!
QR code stickers are also becoming more popular in the hospitality industry. QR code labels for tables are an innovative way of streamlining the ordering process at restaurants and cafes as they allow customers to order food and drink at their table by scanning the code. It doesn't only make for a safer dining experience, but also frees up your staff members so they can focus on other tasks. We can offer durable, weather-resistant QR code stickers that are excellent for restaurant tables.
How to create your QR code stickers
How you create your QR stickers largely depends on your requirements.
Suppose you need varying QR code labels for asset management, where each label has a different QR code, this would qualify as a variable data order. You would need to choose the 'Variable Data' option at the artwork stage of the order process. Selecting this option adds a £15 charge to your order, to cover the set-up time for variable data printing.
You can supply the URLs or varying data for your QR codes in a spreadsheet. Our artwork team will then use your data to create your PDF proof for approval.
If you require the same QR code on all of your labels, you will need to supply it on your artwork. You can upload your artwork when you place your order or email it to our artwork team, referencing your order number.
For custom QR code stickers or QR code labels that incorporate your logo, you will need to supply us with your completed print-ready artwork or choose the 'Design My Artwork For Me' option if you need a helping hand.
We understand this is a lot of information to process. If you have any questions or need further assistance, please pop to our online chat, where a team member will be happy to guide you through the process!
QR code label material
The material you choose for your QR code labels is almost as important as getting the artwork correct! Lucky for you, we offer a wide range of options to fit virtually any use.
We recommend you have your QR codes printed on a white or light background for easier readability. The higher the contrast, the easier your QR codes will be to scan and, therefore, the more effective your marketing strategy will be.
Our uncoated paper is our most cost-effective material choice and works well as QR code labels to adhere to clothing tags, for example. If you're looking for a touch more durability, our glossy paper labels are wipeable and splash-resistant.
For fully waterproof QR code labels, you will want to opt for one of our waterproof vinyl materials. If your labels will be stuck outside, as a marketing strategy or on restaurant or cafe tables that will be wiped with chemical cleaners, you will want to choose our laminated vinyl with an extra-permanent adhesive.
QR code sticker FAQs
How do I order QR code labels?
How you order your QR code labels depends on your requirements. If you need the same QR code printed on each label, you can simply select, 'Start Building My Label,' at the top of this page and follow the order process through. You will need to upload your artwork, with your QR code included at the artwork stage.
If you need variable QR codes, you will need to choose the 'variable data' option at the artwork stage. Then provide your QR code information in a spreadsheet with your order, so our artwork team can create the QR code artwork for proofing.
What type of information can be stored in a QR code?
QR codes are incredibly versatile and can store a range of information. For example, you can use them to link to social media platforms, website URLs or store text about your products or services. In addition, you can use them to promote your app, giving your customers a direct route to download your app from certain platforms.
Are QR codes still effective?
QR code stickers are an effective way of promoting your different platforms, be that a website, your social media or a promotional microsite. They work well as a way of providing more information to your customers or as a quick and direct route to a certain platform.
Things to look out for when printing a QR code on a sticker?
The most important thing to look out for when ordering stickers is that there is enough contrast between the background of your sticker and your QR code. This is why we recommend you have your QR codes printed on a white or light background to ensure enough contrast.
Choose us as your QR code sticker printer for high-quality stickers and fast delivery.
Scan QR code with the camera on your mobile device
QR code labels adhesives and finishes
We offer a collection of adhesives across our material range. Suppose you need to easily remove your QR code stickers without leaving any sticky residue, choose our removable adhesive. Our removable QR code stickers are great for paper book or magazine covers to provide more information on the author or the subject of an article.
If you need something with a bit more tack, our permanent adhesive is our most popular choice, loved by over 90% of our customers. This adhesive will work well for most products, including QR code labels that need to adhere to cosmetics or candles, providing further details on scents and blends. It's harder to peel than our removable adhesive but not impossible to take off.
For more demanding uses, such as asset tags for outdoor items or low-energy surfaces like plastic and wood, our extra-permanent adhesive is the choice for you. Choose our laminated vinyl with an extra-permanent adhesive for QR code labels which will last years.
Our stickers are printed in house in the UK, ensuring top quality time and time again.
Delivery
We aim to print, finish and dispatch all orders within 48 hours of PDF proof approval. Don't fret about delivery charges; your next day delivery has already been included in your price, so there will be no surprises at checkout.
Your next day delivery covers delivery to any UK mainland address. We also provide you with a 1-hour delivery slot via text or email, so you never have to wait around for your Handy Labels parcel.
Quality guarantee
If you are not delighted with your QR code labels then neither are we; check out the Handy Promise.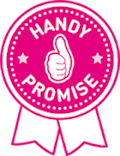 Why use Handy Labels?
Trust - we are a trusted sticker manufacturer and every order comes with our Handy Promise
No hidden extras - high quality stickers at an affordable price with VAT & delivery included
Large selections of shapes, sizes and materials
Huge material range to suit all budgets and uses
Minimum order quantity of just 25 labels
Buy stickers online quickly and easily with our simple-to-use online ordering system
Fast, helpful customer service
Rapid sticker and label turnaround times
Trackable order delivery service
Great quality and value for money
FREE label and sticker sample service
Handy Rewards loyalty benefits
UK based with all work produced in-house
Pay by Credit/Debit Cards, Paypal, Apple Pay, BACS
Unique environmentally friendly policy
Rated EXCELLENT 5 Stars by our customers