Waterproof Stickers and Labels
Custom cut to any shape & size

Multi-purpose & versatile

Excellent value for money

Huge choice of materials

Free, fast UK delivery
Waterproof stickers and labels
Our custom waterproof stickers and labels can be used for multiple applications and purposes. Printed waterproof outdoor stickers are an excellent choice if you need a sticker that can stand up to the elements or be wiped clean. We always recommend opting for a waterproof sticker, as it increases your stickers durability.
Our waterproof labels and stickers are printed on strong but flexible materials combined with strong adhesives and finishes that can withstand moisture. Choose from any shape and size and upload your own artwork to create the perfect stickers to suit your needs. Our waterproof vinyl stickers are as competitively priced to ensure you get the best value for money!
TABLE OF CONTENTS
Adhesives and finishes for waterproof labels
Our printed waterproof labels can be printed on a number of different colours and materials including white, clear, metallic or fluorescent vinyl. We also offer a choice of finishes for your waterproof labels, depending on your choice of material. Finish options include glossy, matt and satin.
We offer several adhesives to suit the intended use of your sticky label. Our most popular adhesive for waterproof stickers is permanent however, you may require an extra permanent adhesive if being applied to a low energy surface. All of our waterproof labels are printed using high-quality, eco-solvent inks which offer a level of scratch and UV resistance.
Waterproof sticker uses
Our waterproof vinyl sticky labels can be used for a variety of purposes. They are suitable for both indoor and outdoor applications, ideal for humid or damp environments such as swimming pools and bathrooms.
Our waterproof range is durable and long-lasting, making them ideal for branding products, advertising promotions and for other marketing materials.
Some common applications of waterproof stickers include:
Waterproof stickers FAQs
What are waterproof stickers?
Waterproof stickers are repellent and resistant to water damage that may occur as a result of high levels of moisture, rain and outdoor use. They are waterproof because of the material they are made from, the adhesive that keeps them in place and the inks that are used for printing your design. Stickers and labels can only be considered waterproof if they stay in their original form when they are exposed to water for a prolonged amount of time. Vinyl and laminates generally work the best for waterproof labels when paired with an extra permanent adhesive.
Why might you need waterproof stickers?
Waterproof stickers are essential for labels that are required to stand the test of time. You may sell food and beverage products that need to be stored in the fridge. Ingredients labels should remain intact, even in moist environments, to ensure the safety of your product.
Other common uses for waterproof stickers include:
Cosmetic packaging, particularly for liquid cosmetics
Outdoor stickers
Most stickers will tolerate a small amount of water splashed on them but to ensure your sticker or label doesn't get ruined by a larger amount of water, there are various steps you can take. Any sticker made from vinyl will repel water, the addition of lamination and extra permanent adhesive will keep it pristine under most conditions too.
Are vinyl stickers waterproof?
Generally, vinyl stickers can get wet and remain unaffected, for extra protection choose a laminated vinyl. Also, ensure the adhesive is permanent or extra-permanent so your sticker can take a drenching and stay put, with the printed artwork unaffected.
How do you keep waterproof stickers from peeling?
The bond between the sticker and the surface will largely depend on the type of adhesive used. The stronger the adhesive, the less likely peeling will occur. If the chosen sticker material is resistant to damage from water or mechanical action it's less likely to peel, so opt for a weatherproof vinyl or laminate material. If you intend to stick your waterproof stickers to a low energy surface, use a high-tack, extra permanent adhesive. For any of the adhesives to perform to their best potential the sticker must be adhered to a clean, dry, flat surface.
What is the best adhesive for a waterproof sticker?
The best adhesives for waterproof stickers are permanent or extra-permanent (also called hi-tack). Vinyl labels with removable adhesive also have a degree of resistance to water but are only suited to specialist applications.
What our customers say
Delivery
We aim to print, finish and dispatch all orders within 48 hours of PDF proof approval. Your next day delivery has already been included in your price, so there will be no surprises at checkout.
This covers delivery to any UK mainland address, we also give you a 1 hour delivery window via text or email, so you don't have to wait in all day for your order to arrive, we know how frustrating this can be.
Quality Guarantee
If you are not delighted with your waterproof labels then neither are we, check out the Handy Promise.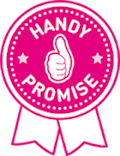 Why use Handy Labels?
Trust - we are a trusted sticker manufacturer and every order comes with our Handy Promise
No hidden extras - high quality stickers at an affordable price with VAT & delivery included
Large selections of shapes, sizes and materials
Huge material range to suit all budgets and uses
Minimum order quantity of just 25 labels
Buy stickers online quickly and easily with our simple-to-use online ordering system
Fast, helpful customer service
Rapid sticker and label turnaround times
Trackable order delivery service
Great quality and value for money
FREE label and sticker sample service
Handy Rewards loyalty benefits
UK based with all work produced in-house
Pay by Credit/Debit Cards, Paypal, Apple Pay, BACS
Unique environmentally friendly policy
Rated EXCELLENT 5 Stars by our customers