Split quantity across multiple designs 

Available in custom shapes & sizes

Huge range of materials & adhesives


Free, speedy UK delivery

Easy online ordering
Candle labels and stickers
Personalised candle labels will help your candles shine brightly. It's not just the pleasant aroma's that will keep your customers coming back for more, but the way the candle is presented too. A luxury candle label can turn your candles into statement pieces, as well as leave a long-lasting impression on your customer.
For many, candles represent romance or nostalgia. However, it's not just our emotional states that candles can have a positive effect on. They go a long way to transform sterile and impersonal environments, into warm and homely living spaces.
Candle sticker labels are an essential component of the finished product and are required to have certain information on them if they are going to be sold. If you are planning on selling your candles, you will also want to include scent information and branding on the candle sticker.
For hobby candle makers, a personalised candle label can add that extra special touch! You could give them to friends or family members as gifts, or just keep them for yourself.
Candle labels for wax melts and scented candles
Scented candles and wax melts are a great way to make your home smell amazing! They usually contain essential oils or fragrance oils that emit pleasing smells even before being lit or heated. Before lighting this is known as a cold throw scent, and whilst burning it is known as a hot throw scent.
More and more people are beginning to create their very own scented candles and wax melts at home. From people making them for family and friends, and then adding that personalised touch through bespoke candle stickers, to serious hobbyists that sell them locally, online, or to larger operations - selling through retail, nationally and beyond.
Essential oils are distilled from plants, seeds or flowers. Their appeal comes from the fact they are natural, and some are claimed to have positive effects on both our physical and mental health. Fragrance oils are formulated in the lab, and they can simulate almost any scent you desire, from the latest Yves Saint Laurent perfume to the smell of freshly cut grass. By creating a custom candle label or sticker for your product, you can entice customers and build your brand!
If you're looking for a little help with your scented candle making, explore our list of some of the larger European candle companies that may be able to assist you.
A list of some of the larger European Companies can be found here.
Candle label adhesive types
From a labelling and printing perspective, there are four standard types of candles that will govern the choice of adhesive you'll go for.
For wax melts, the labels are generally applied straight to packaging, so there are fewer restrictions when it comes to choosing your personalised candle labels.
Votive candles are named after the small religious offering candles - that are usually found in a glass container or jar. The name can encompass larger types of candles too, but in this context, we're referring to any candles that are supplied in a container or candle jar. In which case, removable adhesive candle labels will be preferable. This is so the customer can peel the sticker off without leaving a tacky residue. If you need an unusual shape, be sure to give our custom labels and stickers a try.
Pillar and tapered candles can be labelled directly, and since the wax has low adhesion properties, a standard permanent adhesive can be peeled off without harming the surface.
Finally, rolled beeswax and ice candles have a rough surface, so are normally wrapped. In this case, permanent candle stickers can be used, since the packaging will be discarded.
What makes a good candle label?
You may be familiar with Yankee Candles, a luxury brand from America that have led the way for decorative and scented candles. They have become a household name in the candle industry but, this does not mean that you can't make your own mark!
Arguably, what makes Yankee Candles stand out is their candle labels. Characterised by bold fonts, vivid colour schemes, and creative scent names - their stickers help cement them as one of the top players in the industry. It just goes to show that a luxury candle label can make all the difference.
When you start to see your candle labels as an extension of your product and brand, it makes sense to ensure they're customised, unique, and personalised.
Choose the perfect candle label material to compliment your brand. Whether you're looking for eco-friendly paper label material or a more durable waterproof vinyl, we offer a huge online range, so you will not be short of choice!
You can even make standard candle warning labels a thing of the past with the Handy Labels sticker maker. Make your brand stand out today.
Candle labels FAQs
What are candle labels?
Candle labels are normally self-adhesive stickers that are applied directly on to the candle itself, or part of the packaging. Often a standard printed premium paper label will do, but some candles include essential oils or fragrances that can discolour the sticker, in this instance, a laminated vinyl option would be more suitable.
What do you put on labels for candles?
Most candle labels will have the name/scent of the candle, along with the name of your brand. For example, Vanilla - Yankee Candle. You may also wish to include an illustration and/or your logo, but this is not a necessity. It is not a requirement to list or refer to ingredients unless they are hazardous, but you should put a contact address for your customers. Please see below for advice regarding candle warning labels.
Do I need candle warning labels?
Since candles are a potential source of ignition (i.e. they can start a fire), it is standard practice to put a warning symbol somewhere on the outer packaging, along with some advice symbols on how to use candles safely. These often come as separate stickers and are placed on the back of the product for aesthetic purposes.
What is CLP for candles?
CLP, or Classification, Labelling and Packaging, regulates the labelling and packaging of substances and mixtures where one or more component is classified as hazardous. Any hazardous materials that may be blended into the candle will be labelled as such by your supplier. Standard wax would not normally be subject to CLP legislation, but essential oils and fragrances may be.
Do you need a Licence to sell candles?
A licence specifically to sell candles in the United Kingdom is not required, although it is advisable to have liability insurance, as many craft fairs and alike will insist on it.
Can you put stickers on candles?
Standard smooth wax candles should have no problems having personalised labels stuck to them. However, a removable adhesive would not be suitable in this case, due to the low-energy wax surface of a candle. Some candles have a rough finish or contain essential oils, fragrances that can make adhesion difficult. There is no 'one size fits all' approach when it comes to custom candle labels though, that's why it's best to do a trial and order a free sample pack.
Are candles classified as dangerous goods?
Not specifically, as they are not dangerous under normal circumstances. They should, however, come with warning signs for people using them, as they present a significant fire hazard and certain additives are subject to Classification, Labelling and Packaging (CLP) legislation.
What are candle labels made from?
We offer a wide range of candle label materials to choose from. Our most cost-effective paper materials are commonly used or our more popular self-extinguishing vinyl which will withstand a higher temperature should it come into contact with a naked flame.
Delivery
We aim to print, finish and dispatch all candle or wax melt labels within 48 hours of PDF proof approval. Your next day delivery has already been included in your price, so there will be no surprises at checkout.
When delivering your luxury candle and wax melt stickers, we ensure they are kept pristine for you to apply to your candle jars or other packaging, and wow your customers into buying immediately.
This covers delivery to any UK mainland address, we also give you a 1-hour delivery window via text or email, so you don't have to wait all day for your order to arrive.
Quality Guarantee
If you are not delighted with your candle labels then neither are we, check out the Handy Promise.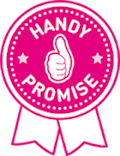 CLP Candle labels
Is CLP labelling a legal requirement?
Yes, CLP regulation, or classification, labelling and packaging, ensure the safe supply and use of hazardous substances/mixtures by enforcing specific labelling requirements.
Your candle and wax melt labels must be correctly labelled as per CLP regulation before putting them on the market and selling them to your customers. You'll need to apply your CLP labels directly to the immediate packaging or product to ensure that they're easily identifiable by consumers.
Requirements for CLP candle labels will differ from product to product, but most will need the following components:
Product Identifier/Name
Your product identifier is simply the name of your product, fragrance or mixture. It needs to be present at the very top of your candle label to outline what your product is.
Allergen Information
Any allergen ingredients that form your products hazards must be displayed here; no more than four is recommended to avoid confusion. However, more than four is only acceptable if necessary due to the severity or nature of the hazard it imposes.
Hazard Pictograms
Hazard pictograms are used to visually represent the hazards your products may cause. Therefore, you will need to make sure you are using the correct hazard pictograms for the classification of your particular substance or mixture. 
Signal Word
The signal word on your CLP label will differ depending on the classification of your hazardous substance/mixture and details the severity of the hazard to the consumer. For less severe hazards, you should use the signal word 'warning,' and for more severe hazards, use 'danger.' 
Hazard and Precautionary Statements
Depending on the hazards of your product, you will need to include specific hazard statements outlining the possible dangers and their severity. Precautionary statements are also required to help your customers prevent or reduce the risk to the health of humans or the environment.
Supplier Address and Phone Number
Although your address and phone number are mainly required for insurance and liability purposes, it's also crucial that your customers can contact you about your product. Therefore, if you don't have a business address or phone number yet, you will still need to provide an address and phone number on your CLP labels. This includes your business name, legal ownership name and an address where others can send legal documents.
Click any warning pictogram to download high-resolution PDF artwork to use in your wax melt safety stickers and CLP candle label design.
Wick Length
Keeping the wick down to 1cm is considered to be the safest way to burn candles.
Mind the Gap
A gap of 5cm or more is advised between any candle and its neighbour, to avoid the spread of fires.
Keep Clear of Overhanging Items
Curtains and other overhanging items can waft about in the breeze and if a lighted candle is nearby, this can be a source of ignition. These candle warning symbols inform the customer there is a risk.
Do Not Leave Candles Unattended Warning Sign
If any source of ignition has an eye kept on it, the chances of a fire breaking out are significantly reduced.
Keep Away from Children and Pets
Children and pets can knock over or play with anything, removing the temptation is advisable.
Why use Handy Labels?
Trust - we are a trusted sticker manufacturer and every order comes with our Handy Promise
No hidden extras - high quality stickers at an affordable price with VAT & delivery included
Large selections of shapes, sizes and materials
Huge material range to suit all budgets and uses
Minimum order quantity of just 25 labels
Buy stickers online quickly and easily with our simple-to-use online ordering system
Fast, helpful customer service
Rapid sticker and label turnaround times
Trackable order delivery service
Great quality and value for money
FREE label and sticker sample service
Handy Rewards loyalty benefits
UK based with all work produced in-house
Pay by Credit/Debit Cards, Paypal, Apple Pay, BACS
Unique environmentally friendly policy
Rated EXCELLENT 5 Stars by our customers