Split multiple designs across your order

Available in a wide material range

Customise to any shape & size

Quick, online order process

Free UK delivery
Create your own soap labels
After spending so much time perfecting your soaps, why limit your packaging's potential? Custom soap labels will amplify the premium feel of your soaps, giving your customers more reason to purchase from you.
Whether you create handmade soaps as a hobby or you're a larger seller offering your soaps at fairs and markets, you'll need a way of showcasing your branding and providing valuable information. Soap labels are the solution to both of these problems; continue reading to find out how!
TABLE OF CONTENTS
Create your own personalised soap labels
Adding branded stickers to your packaging is the key to stepping away from a small start-up and moving towards a premium brand (for a not-so-premium cost!).
Personalised soap labels can work for you no matter your aesthetic. For an eco-friendly and natural feel, choose any of our paper label materials, combined with a simple design to promote your message. Looking for something more lavish, choose our matt vinyl with a sleek black design, catching the attention of those who crave a bit of luxury!
Even if you're not a seller of soaps, you might be giving soaps as a thank you gift, for example, to your bridal party or close friends. Order some soap labels with a custom thank you message printed to adhere to each gift, making any special occasion even more magical.
Soap label uses
Soap labels are an essential part of your soap packaging as they provide important information and display ingredients. Many of our customers use a front and back dual sticker system, with the main logo and product description on the front and further useful information on the back. This approach leaves the front of their label free for their branding while space for all the information that legislation requires is reserved for the back.
You can make good use of our multiple designs service and have personalised soap labels for each scent you offer. Switch up your design for each scent, making them easily recognisable for your customers. For example, you could opt for purple text for lavender soap, green text for eucalyptus soap and pink text for rose soap. Keep your logo and font consistent throughout for a cohesive brand product line.
Soap labels for small businesses
If you're new to the soap scene, or if you produce small runs of your soaps at a time, we can help. We have a minimum order quantity of 25 labels, perfect for testing a new scent or seasonal promotion.
We offer competitive prices and high-quality printing in-house in the UK. So take advantage of our small minimum order quantity and test our soap labels for yourself!
Designing your soap labels
If you plan to sell your finished soaps, there are labelling regulations that have to be adhered to. The soap label or sticker would typically be attached to the outer packaging and relay a number of pieces of information to the consumer. It's vital that you look into what's required on your soap label and packaging.
Although this sounds daunting, we're here to lend a helping hand. We have produced a detailed guide to cosmetics and personal care product labelling, which can be found here but the main points are:
Contact details of a responsible person or organisation
Ingredient listing
Batch code or number
Shelf life
Some means of identifying the function
The average net weight or number of the product(s)
Best before date
Any applicable warnings or precautions
We offer a range of options during the artwork stage for you to get the perfect soap labels. If you have your artwork ready, you can simply upload it when you place your order or email it to our artwork team. If you need some assistance creating your design, we offer a design service where we will create one design for you for £15+VAT. All you'll need to do is provide us with the elements you require on your artwork, e.g. text, logo, fonts etc and we will do the rest.
Soap label materials
We offer materials with a range of finishes for your soap labels. If you're seeking material with a natural look, our uncoated or brown kraft paper would be perfect for you. These materials look subtle yet professional and are our most cost-effective option.
Alternatively, if you need something a little more robust, our waterproof vinyl materials are the answer. Waterproof soap labels provide an added peace of mind, knowing that your printed design will stay pristine for longer. Finally, if your labels come into contact with essential oils or chemicals, our laminated vinyl in a gloss or matt finish is the choice for you.
If you'd like to control some of the printing yourself, we've got the solution. Any of our A4 label sheets in our paper range can be over-printed using an inkjet or laser printer. Perfect if you would like to print personalised details or fragrances on each label at home!
Adhesives and finishes for soap labels
The best adhesive for soap labels depends on where you plan to stick them. The outer packaging is likely to be able to accommodate any material, but the soap itself might need a strong adhesive, especially if the soap has a matt surface. Choose extra permanent adhesive during the order process.
The finish of your soap labels is largely up to you! Think about what finish best resonates with your brand and shows off your design. Any vibrant colours look best with a glossy finish as this makes them really pop. A matt finish has connotations of luxury. The choice is all yours.
Soap label FAQs
Where do I buy soap labels?
Here! Congratulations, you've found the ideal place to buy soap labels and stickers. Whether you're looking for a label for the outer packaging or the bar of soap itself, we have a huge range of options and materials that will combine to make the ideal finished product. Don't forget we also offer competitive prices!
What are soap labels?
Soap labels can come in two forms, ones for the outer packaging or ones for the bar itself. Soap outer packaging is usually standard card or plastic, so there are no specific requirements. However, the surface of the soap itself is, well, soapy, so a high-tack/extra-permanent adhesive might be best.
Do I need to label my soap?
Soap labels are one of the easiest, most cost-effective methods of providing essential information to your customers. Due to their versatility, soap labels don't just offer a place to detail warnings and ingredients. They also allow you to showcase your branding and stand out on the shelves.
What size is a soap label?
Due to our high-quality printing and cutting processes, we can offer soap labels in virtually any shape or size you require. If you're unsure whether we can offer your shape or size, get in touch with a friendly member of our team and find out!
What do I have to put on liquid soap labels?
Liquid soap labels are chemically similar to most shampoos and subject to the same rules and regulations. Ingredients listings, contact details, shelf life, etc are some of the pieces of information that you must share. More details can be found here.
How to design soap labels?
The way to design soap labels is to start with the size and shape. This is governed by the item for sale and if it's a single or multipack. Packaging band types are often added to single bars, whereas multipacks usually have more space to work with.
Requirements for soap labels?
Soap is classified as a personal care product, so is subject to the same labelling requirements as shower gel and hair conditioner. Ingredients, batch numbers and product descriptions are amongst the things that are typically required.
Can I label my soap as cruelty-free?
Soap can be labelled cruelty free if neither it nor its ingredients have been tested on animals during the development or manufacturing process for the last five years. Certification is obtained via the Leaping Bunny Standard but you can claim that this product has not been tested on animals, providing it hasn't.
Do soap labels need warnings?
Whether or not you need to put warnings on soap labels largely depends on their ingredients. Essential oils, for example, can contain allergens that should be labelled correctly in the ingredients. Various other additives have individual regulations. Full list here.
Do I need a license to manufacture and sell soap?
A specific licence to make and sell soap in the United Kingdom is not required unless the ingredients or some other aspect of the process is hazardous enough to warrant it. However, it is advisable to have liability insurance.
Can I label my soap as organic?
If your ingredients, excluding water and salt, are from organically farmed sources, you may claim this on your packaging. However, if you want to claim that the soap itself is organic, you should apply for certification from the Soil Association. Certain additives, like lye (sodium hydroxide), cannot be organic, so enough of it needs to be neutralised to be organic.
Delivery
We aim to print, finish and dispatch all orders within 48 hours of PDF proof approval. Your next day delivery has already been included in your price, so there will be no surprises at checkout.
This covers delivery to any UK mainland address, we also give you a 1-hour delivery window via text or email, so you don't have to wait in all day for your order to arrive, we know how frustrating this can be.
Quality guarantee
If you are not delighted with your soap labels then neither are we, check out the Handy Promise.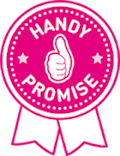 Making handmade soap is a craft that can be done at home with some basic equipment, often just a microwave, a mould, a mixing vessel and a stick are all that's required. Gone are the days when you needed chemical expertise and laboratory equipment to make homemade soap. You can, of course, do it the authentic way with fats/oils and alkalis but that's for the purist.
Nowadays you can buy a ready-made soap base and add colours, fragrances, essential oils or exfoliants. You simply melt the soap base in a microwave oven or double boiler (bain-marie) then stir in the additives, observing any precautions that come with them, and pour into the desired moulds and allow to cool and set.
Hand soap labels are normally applied to the soap itself or a plastic wrapper or even a box. They can also be required as a liquid soap label, although this is chemically akin to shampoo or shower gel.
Why use Handy Labels?
Trust - we are a trusted sticker manufacturer and every order comes with our Handy Promise
No hidden extras - high quality stickers at an affordable price with VAT & delivery included
Large selections of shapes, sizes and materials
Huge material range to suit all budgets and uses
Minimum order quantity of just 25 labels
Buy stickers online quickly and easily with our simple-to-use online ordering system
Fast, helpful customer service
Rapid sticker and label turnaround times
Trackable order delivery service
Great quality and value for money
FREE label and sticker sample service
Handy Rewards loyalty benefits
UK based with all work produced in-house
Pay by Credit/Debit Cards, Paypal, Apple Pay, BACS
Unique environmentally friendly policy
Rated EXCELLENT 5 Stars by our customers